What does an umbrella, inner tube and mylar blanket have in common?  They are all components of innovative solar cooker designs.
Seventeen teachers came to the Florida Solar Energy Center (FSEC) in Cocoa this past Saturday, from as far away as Sarasota and Port St. Lucie, to learn how to build solar cookers.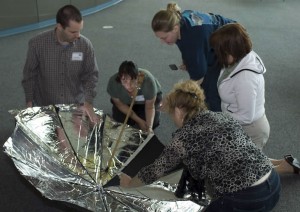 Working in teams, the teachers constructed five different solar cookers.  Each design used common household items in creative ways, including an umbrella, inner tube, and plant stand, to name just a few.  Armed with new information, strategies and inspiration, these teachers will work with their students to build a variety of solar cookers.  The student-designed and built cookers will be on display at the Bright House Solar Energy Cook-off at FSEC's EnergyWhiz Olympics on May 9. In Top Chef style, student teams will also submit a food cooked in their solar cooker to be judged by a panel of experts.

"Solar cooking is more than fun science. It also teaches solutions to real-world problems that impact peoples' lives, especially in the developing world, where women spend half a day, nearly every day, collecting firewood for fuel," said David Schleith, a teacher at Einstein Montessori School in Cocoa.
Karen Regan from Stone Middle School in Melbourne said she just introduced her students to solar cooking. After she shared some videos about the topic from http://www.teachertube.com/, one of her students said, "If a woman from an underprivileged country can build a solar cooker from practically nothing, then we should be able to do it."
For millions of people around the world who cook over fires fueled by wood or dung, solar cooking is more than a choice—it is a blessing. Solar cooking is the simplest, safest and most convenient way to cook food without consuming fuels. For those who lack access to safe drinking water, solar water pasteurization using a solar cooker is a life-saving skill.
"Solar cooking seems to appeal to the kids who aren't immersed in research or even solar cars, yet want to do something hands-on. And it's a great activity for bringing students back to science after FCAT," said Regan.
Bright House Networks sponsored the solar cooking workshop.  The teacher-built cookers will be on display at the Sunsational EarthFest at FSEC on April 18. For more information about the Sunsational EarthFest, visit http://www.floridaenergycenter.or/go/earthfest
For more information about the Bright House Solar Cook-off, visit: http://www.fsec.ucf.edu/en/education/k-12/events/solar_cookoff/
For more information about the EnergyWhiz Olympics, visit http://www.fsec.ucf.edu/en/education/k-12/events/ewhiz_olympics.htm

For information about teacher professional development, contact Susan Schleith at 321-638-1017.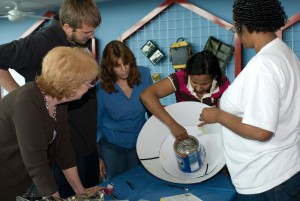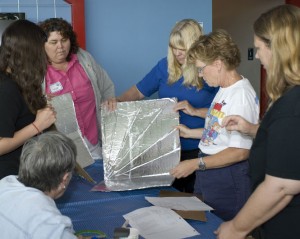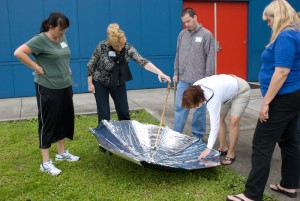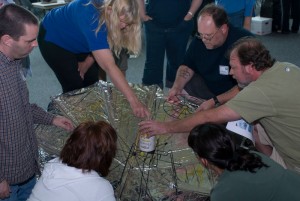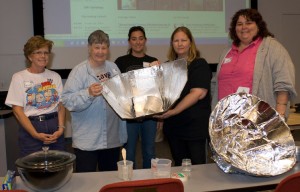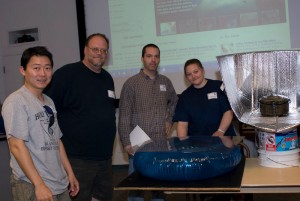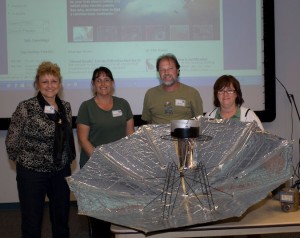 Please follow and like us: