Dr. James Fenton Speaks to Florida House of Representatives, Energy & Utilities Subcommittee on December 6, 2011
Below is the transcription of the 12-minute video recording, located here: http://vimeo.com/33415686.
My name is James Fenton, I'm director of the University of Central Florida's Florida Solar Energy Center here today and I would like to talk to you about manufacturing, manufacturing renewable energy in Florida.  Specifically I'll use examples of photovoltaics; solar to electric panels.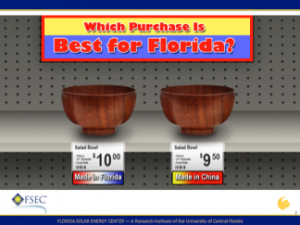 Let's look at Florida manufacturing jobs as a tale of two salad bowls.  The $10.00 bowl made in Florida using Florida materials keeps all the money and all the jobs in Florida.  The $9.50 bowl imported from China, manufactured by Chinese, using Chinese materials sends most of the money and the jobs to China.  Which purchase is best for Florida?
Florida imports almost all of its energy resources.  The citizens of Florida pay $27 billion for electricity and $30 billion for gasoline for a total of $57 billion per year.  This compares to our state budget of $70 billion a year.  But unlike our state budget, which I hope by the way we spend all that money in the state, most of the $57 billion leaves the state of Florida.  We are faced with two energy challenges – How can Florida reduce its imported energy costs and how can Florida's electricity and transportation fuel be manufactured in Florida?  Can we design an energy future which allows Florida to keep our capital in the state, increasing economic activity and produce high-wage jobs.  We can and there is a path to do it.  I would like to share such a path.
Read more
Please follow and like us: