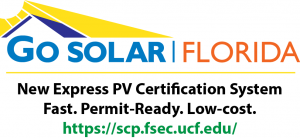 COCOA, Fla., June 19, 2017— Contractors installing photovoltaic (solar electric) systems in Florida can now obtain permit-ready documents in a matter of minutes, thanks to a new online express solar certification system developed by the University of Central Florida's Florida Solar Energy Center (FSEC)®.
The database-driven, web-based Solar Certification Portal will process inputs from professional engineers and contractors licensed to install photovoltaic (PV) systems in Florida. The output includes an electrical schematic and supporting equipment documentation—which complies with prevailing codes and standards—certified by FSEC and ready for use in the building permit process.
Express system certification only costs $150—a $100 reduction over the current manual system certification fee. Tier 1 PV systems (10kW or less) are eligible for express processing.
Please follow and like us: