An article written by Nazim Muradov, a principal research scientist at the University of Central Florida's Florida Solar Energy Center, was recently identified by Thomson Reuters' Essential Science Indicators SM as one of the most cited papers in the research area of "Hydrogen Economy."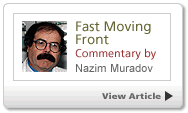 Muradov's highly cited article, "From hydrocarbon to hydrogen-carbon to hydrogen economy," published in the "International Journal of Hydrogen Energy" in March 2005, is now featured as a Fast Moving Front paper in the field of engineering on Thomson Reuters' ScienceWatch® Web site:  http://sciencewatch.com/sciencewatch/dr/fmf/2009/09mayfmf/09mayfmfMura/.
"I'm deeply honored that the work conducted at FSEC has received such broad attention and recognition among professionals," Muradov said. "It shows that so many people are concerned with the issues of clean and abundant energy supply, and they consider future Hydrogen Economy as a viable solution to the current energy and environmental problems.
"It is very important to recognize the scope of problems and available options early in order to adequately plan long-term strategies for the transition to sustainable carbon-free energy systems, because the failure to do that will have enormous negative impact on our planet."
This paper describes a novel concept for addressing and dealing with the energy and environmental issues during the transition from the present fossil-based economy to a sustainable carbon-neutral economy of the future. It outlines a new way of producing clean fuels and advanced structural materials from traditional fossil-based resources, such as natural gas, in an environmentally sustainable way.
Muradov's complete paper can be seen at www.sciencedirect.com.
About Thomson Reuters' Essential Science IndicatorsSM
Thomson Reuters' Essential Science IndicatorsSM is a resource that enables researchers to conduct ongoing, quantitative analyses of research performance and track trends in science. Covering a multidisciplinary selection of 11,000+journals from around the world, this in-depth analytical tool offers data for ranking scientists, institutions, countries, and journals.
This unique and comprehensive compilation of science performance statistics and science trends data is based on journal article publication counts and citation data from Thomson Reuters' scientific databases. Available as a ten-year rolling file, ESI covers 10 million articles in 22 specific fields of research, and is updated every two months.
Please follow and like us: