Cocoa, FL – The Florida Solar Energy Center (FSEC) will host the eighth National Alternative Fuel Vehicle (AFV) Day Odyssey Advancing the Choice alternative fuel workshop on October 15, 2010 at Lynx Biodiesel Facility in Orlando at 250 Lynx Lane.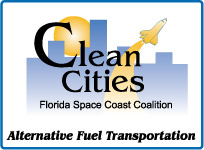 This nationwide event is being held in 94 different locations throughout the U.S. this year. Coordinated by the National Alternative Fuel Vehicle Training Consortium (NAFTC), in a partnership with the U.S. Department of Energy's (DOE) National Clean Cities program, the program promotes awareness and use of AFVs, energy conservation, and independence for the U.S.
The Space Coast Clean Cities Coalition, a Florida chapter of the U.S. DOE Clean Cities Program, has coordinated and organized the Advancing the Choice alternative fuel workshop as part of the national event. This workshop will feature presentations and discussions about AFV ownership opportunities, biodiesel and ethanol production, quality standards for fuel grade, utilizing biofuels in current vehicles, and construction of biodiesel and ethanol fueling stations.
The workshop will run from 8:30 a.m. until 3:30 p.m., and the cost to attend is free for on-line registration, or $10 at the door. For more information about this workshop please contact FSEC researcher Bill Young at (321) 638-1443, or visit www.clean-cities.org.