COCOA, May 11, 2011 – Florida students have creative ideas for solving some of the world's greatest energy challenges, and their solutions were demonstrated Saturday at the ninth-annual EnergyWhiz Olympics.
More than 900 students throughout Florida converged Saturday, May 7 at the University of Central Florida's Florida Solar Energy Center (FSEC) in Cocoa to compete in the day-long competition showcasing student projects in alternative fuel technologies.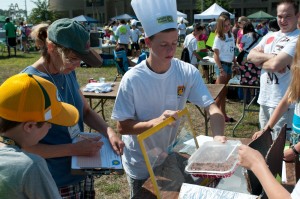 Events included the Bright House Solar Energy Cookoff, a solar cooker design and cooking contest; the Junior Solar Sprint, model-size solar car races; the High School Hydrogen Sprint and Hands-On-Hydrogen, model-size hydrogen-powered car races; and Energy Innovations, a full-scale solar electric design challenge.
The Bright House Solar Energy Cookoff challenged students to design and build solar cookers, and also cook a recipe of their own creation in their oven. Students' creative dishes – such as O'Sol Meatballs and Kicken' Swamp Cabbage – were judged on taste, ingredients and creativity.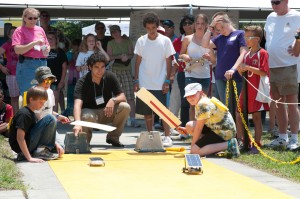 One of the most popular events is the Junior Solar Sprint (JSS), where students in grades 6-8 design, construct and race solar-powered vehicles. This hands-on competition encourages scientific know-how, creative thinking, experimentation and teamwork. Awards were given based on vehicle design, quality of craftsmanship, innovation and vehicle speed.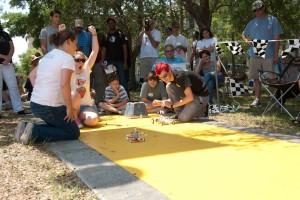 The Hands-On-Hydrogen competition for middle school students, and the Hydrogen (H2) Sprint, a competition for high school students in grades 9-12, challenges students to design, build and race model-sized cars powered by hydrogen fuel cells. The competitions expose students to hydrogen's potential as an alternative fuel source. The H2 Sprint provides graduates of the JSS program an opportunity to continue designing and building alternative-fueled vehicles. Student teams not only showcased their skill on the track, but they also demonstrated their understanding of hydrogen in a 10-minute presentation.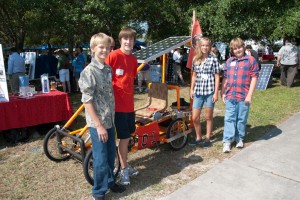 The Energy Innovations program is a full-scale solar electric design and marketing challenge for middle and high school students. Each team designed and constructed a product or artistic work fully powered by photovoltaic panels, more commonly known as solar electric panels. Additionally, teams created marketing pieces, such as brochures, fliers, and posters, to promote their innovative product and educate spectators.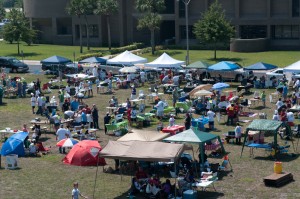 "Our event continues to grow each year," said Susan Schleith, education coordinator at FSEC. "The number of solar cooking teams doubled compared to last year and we had more than 70 solar car entries – a new record. It's gratifying to see more and more students excited about alternative energy."
Competition results are listed below. Photos of the award winners are available on our Facebook page at FloridaSolarEnergyCenter, or visit www.fsec.ucf.edu/go/energywhiz for more event photos.
JUNIOR SOLAR SPRINT
6th Grade Race
1st Place –
Pine View School (car #62, Last Minute Candy Machine), Osprey
2nd Place –
Gulf Coast Academy (car #37, Jamacia), Spring Hill
3rd Place –
Hollywood Christian Academy (car #11, Geiko), Hollywood
7th Grade Race
1st Place –
McLane Middle School (car #15, Vibot 2), Brandon
2nd Place –
Jupiter Middle School (car #28, Robin-Sun), Jupiter
3rd Place –
Conway Middle School (car #68, Kramer's Favorite), Orlando
8th Grade Race
1st Place –
McLane Middle School (car #14, Vibot 1), Brandon
2nd Place –
McLane Middle School (car #16, Vibot 3), Brandon
3rd Place –
Cornerstone Middle School, (car #50, S-Car-Go), Tallahassee
Most Innovative Vehicle Design (overall)
1st Place –
Cocoa Beach Jr/Sr High School (car #13), 7th grade team, Merritt Island
2nd Place –
Hollywood Christian Academy (car #12), 7th grade team, Hollywood
3rd Place –
Einstein Montessori School (car #48), 8th grade team, Cocoa
Best Vehicle Design (overall)
1st Place –
McLane Middle School (car #14), 7th grade team, Brandon
2nd Place –
McLane Middle School (car #16), 7th grade team, Brandon
3rd Place –
Hollywood Christian Academy (car #12), 7th grade team, Hollywood
HYDROGEN SPRINT

1st Place Race –
Edgewood Jr/Sr High (Imperial High Inquisitors), Merritt Island
1st Place Design –
Edgewood Jr/Sr High (Imperial High Inquisitors), Merritt Island
1st Place Performance –
Edgewood Jr/Sr High (Race Girls), Merritt Island
Overall Ranking:
1st Place –
Edgewood Jr/Sr High (Imperial High Inquisitors), Merritt Island
2nd Place –
Edgewood Jr/Sr High (Race Girls), Merritt Island
3rd Place –
Edgewood Jr/Sr High (H2 Fuel Cows), Merritt Island
HANDS-ON-HYDROGEN
1st Place Design –
Edgewood Jr/Sr High (car #2, The Hula), Merritt Island
1st Place Overall –
McLain Middle (car #17, H2 Go), Brandon
2nd Place Overall –
Andrew Jackson Middle School (car #8, Fred), Titusville
3rd Place Overall –
Trinity Prepatory (car #1, Brain the Train), Winter Park
BRIGHT HOUSE SOLAR COOKOFF
Elementary School Division
WOW! Award –
Hollywood Christian (#21, Metallic Core), Hollywood
1st Place Cooker Design –
Fellsmere Elemen. (#18, The Baja Grillers), Fellsmere
2nd Place Cooker Design –
Knight's Elementary (#13, Whiz Kids), Plant City
3rd Place Cooker Design –
Hollywood Christian (#21, Metallic Core), Hollywood
1st Place Solar Chef –
Fellsmere Elemen. (#18, The Baja Grillers), Fellsmere
2nd Place Solar Chef –
Fellsmere Elemen. (#17, Cocina del Sol), Fellsmere
3rd Place Solar Chef –
Hollywood Christian (#21, Metallic Core), Hollywood
Middle School Division
WOW! Award –
Edgewood Jr/Sr High (#8, Panda Dynasty), Merritt Island
1st Place Cooker Design –
Hidden Oaks Middle (#18, Alessa Grill), Palm City
2nd Place Cooker Design –
Hidden Oaks Middle (#17, Sol Power), Palm City
3rd Place Cooker Design –
Conway Middle (#25, Chef JLJ), Orlando
1st Place Solar Chef –
Edgewood Jr/Sr High (#8, Panda Dynasty), Merritt Island
2nd Place Solar Chef –
Hidden Oaks Middle (#18, Alessa Grill), Palm City
3rd Place Solar Chef –
South Seminole Middle (#4, International Cooking Flare), Casselberry
Energy Innovations

Wow! Award (combined division) –
Gulf Coast Academy (NEXXAN Sun Glider), Spring Hill
Middle School
1st Place Photovoltaic Design –
Gulf Coast Academy (NEXXAN Sun Glider), Spring Hill
2nd Place Photovoltaic Design –
Edgewood Jr/Sr High (The Air Heads), Merritt Island
3rd Place Photovoltaic Design –
Edgewood Jr/Sr High (The Dukes), Merritt Island
High School
1st Place Photovoltaic Design –
Pasco High (Solar Tricycle), Dade City
2nd Place Photovoltaic Design –
South Broward High (Sun Tiki), Hollywood
3rd Place Photovoltaic Design –
Edgewood Jr/Sr High (The Happy Cows), Merritt Island
###
PR11-04
Please follow and like us: