COCOA, November 29, 2011 — The Florida Solar Energy Center (FSEC), a research institute of the University of Central Florida, is seeking qualified two-story homes to participate in a U.S. Department of Energy-sponsored "wind washing" study that will begin next month.
Eligible participants will be compensated $50 for the initial study, and up to $680 for those who are selected to participate in the monitoring and repair portion of the project; repair costs will be paid by FSEC. Homes for the study are being sought in the following Florida counties: Brevard, Osceola, Orange, Seminole, Volusia, Lake, Marion, Putnam, Flagler, St. Johns, Clay, Duval and Nassau.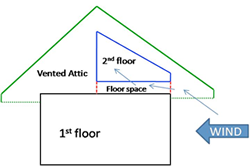 Wind washing involves the flow of air from an attic space into the floor cavity between the first and second stories of the house. Homes with wind washing are likely to experience increased utility costs and, in some cases, indoor comfort problems.
The FSEC research team will be conducting about five hours of testing in each home. Testing will examine airtightness, air pressure fields in the house, air conditioner performance, duct leakage and attic-to-floor cavity air leak pathways.
Twenty-four homes will be tested. Six of those homes will be selected for repairs, and they will be monitored to evaluate the cooling and heating energy savings from the repairs.
The findings of this research study will help to inform contractors and utility programs on methods for identifying and repairing wind washing problems in homes.
If you are interested in participating in this research project, visit http://www.fsec.ucf.edu/go/TwoStory or contact Jeremy Nelson at 407-243-8197 or jnelson@fsec.ucf.edu.
About FSEC
The Florida Solar Energy Center, a research institute of the University of Central Florida, is the largest and most active state-supported energy research institute in the nation. Current divisions and their research activities include Advanced Energy Research: alternative transportation systems, hydrogen fuel and fuel cells; Buildings Research: energy-efficient buildings; and Solar Energy: solar water and pool heating and solar electric and distributed generation systems. For more information about the center, visit http://www.floridaenergycenter.org or call the FSEC Public Affairs Office at 321-638-1015.
UCF Stands For Opportunity
The University of Central Florida is a metropolitan research university that ranks as the 2nd largest in the nation with more than 56,000 students. UCF's first classes were offered in 1968. The university offers impressive academic and research environments that power the region's economic development. UCF's culture of opportunity is driven by our diversity, Orlando environment, history of entrepreneurship and our youth, relevance and energy. For more information visit http://news.ucf.edu.
###
PR11-06
Please follow and like us: