COCOA, June 04, 2012 — Want $1,500 worth of energy improvements to your home, for free?
The Florida Solar Energy Center (FSEC), a research institute of the University of Central Florida, is seeking 30 homes in Brevard County and up to 30 from Dade or Broward counties to participate in an energy-retrofit study.  Those selected will benefit from the installation of energy-saving devices worth at least $1,500.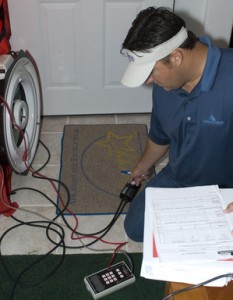 A limited number of homes may qualify for a more extensive retrofit remodel worth $10,000 to $15,000.
Eligible participants are FPL customers in single-family, detached residences with only one electrical breaker panel, a single central air-conditioning system, electric space and water heating, and Internet service with a home Wi-Fi network.  Homes must be owner-occupied year-round and have been lived in for at least one year.  Preference will be given to homes built prior to the year 2000.
Those selected for the study, which begins this month, can expect the installation of such cost-saving items as: water heater blankets and pipe insulation, low-flow showerheads, CFL bulbs, and home and duct air sealing.
The FSEC research team will conduct an energy audit within each home.  Testing will examine airtightness, air pressure fields, air conditioner performance, duct leakage and air leakage pathways.  The research team will also measure energy use before and after the installed retrofits for 12 to 18 months.
Sponsored by the U.S. Department of Energy, Building America and Florida Power and Light, this project's goal is to educate consumers about their energy use and expand retrofit programs throughout Florida and the U.S.
If you are interested in participating in this research project, visit http://www.fsec.ucf.edu/go/FPLretrofits or contact Jeremy Nelson at 407-243-8197 or jnelson@fsec.ucf.edu.
About FSEC
The Florida Solar Energy Center, a research institute of the University of Central Florida, is the largest and most active state-supported energy research institute in the nation. Current divisions and their research activities include Advanced Energy Research: alternative transportation systems, hydrogen fuel and fuel cells; Buildings Research: energy-efficient buildings; and Solar Energy: solar water and pool heating and solar electric and distributed generation systems. For more information about the center, visit http://www.floridaenergycenter.org or call the FSEC Public Affairs Office at 321-638-1015.
UCF Stands For Opportunity
The University of Central Florida is a metropolitan research university that ranks as the 2nd largest in the nation with more than 58,000 students. UCF's first classes were offered in 1968. The university offers impressive academic and research environments that power the region's economic development. UCF's culture of opportunity is driven by our diversity, Orlando environment, history of entrepreneurship and our youth, relevance and energy. For more information visit http://news.ucf.edu.
###
PR12-05
Please follow and like us: