By Danielle Daniel
Congratulations to Dr. Nahid Mohajeri, who received a University of Central Florida (UCF) 2012-2013 Research Incentive Award in recognition of her exceptional research efforts. Dr. Mohajeri is an associate research professor at UCF's Florida Solar Energy Center (FSEC).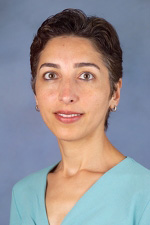 Each year, UCF recognizes faculty members and research staff who have an outstanding research, scholarly, or creative record that advances the body of knowledge in their field.
"I did not get here all by myself," states Mohajeri, in response to receiving the award. "I have been helped, guided, and given opportunities by many people during my tenure at FSEC that I will forever be grateful," she explains.
Dr. Mohajeri's recent contributions to the research community include the development of highly durable proton exchange composite membranes for fuel cells, a technology based on the addition of cerium oxide nanoparticles to the membrane. When tested, this innovative approach   improved fuel cells' membrane stability and performance, resulting in a sevenfold decrease in the open circuit voltage decay rate compared to the baseline membrane. Membranes are at the heart of hydrogen fuel cell technology, and by increasing their durability, goals for developing fuel cells as a reliable, alternate energy source are attainable.
Other accomplishments include the creation of a chemochromic hydrogen leak detection tool known as "Smart Paint," which was used by NASA to visually detect colorless and odorless hydrogen leaks. Furthermore, Dr. Mohajeri discovered a new class of catalysts for the hydrolytic cleavage of ammonia borane, one of the promising classes of chemical hydrides for hydrogen storage. She has authored and co-authored more than 30 scientific publications and has received seven patents (awarded and applied). In addition to her research endeavors, Dr. Mohajeri says she considers it an honor as a professor to educate and mentor "the next generation of scientists."
Regarding future contributions to energy research, Dr. Mohajeri's diverse background has enabled her to work in various energy research areas. However, one focus in particular has garnered her attention: "The area of soft materials, such as polymers, for energy storage or energy efficiency technologies holds a special place in my overall interests in energy research," she states.