By Sherri Shields
September 25, 2014
A hydrogen safety technology that was developed as a result of a partnership between the University of Central Florida's FSEC® and NASA, and then commercialized by a university startup company, has been internationally recognized by the R&D 100 Awards program as one of the most technologically significant products to enter the marketplace last year.
When NASA John F. Kennedy Space Center needed an easy-to-use, safe, effective and non-powered solution to visually detect dangerous hydrogen leaks on and near the shuttle launch pad, they reached out to FSEC's Dr. Ali Raissi and his team of researchers, Drs. Nazim Muradov, Gary Bokerman, Nahid Mohajeri, and R. Paul Brooker. Together, NASA KSC and FSEC—a research institute of the University of Central Florida—designed a one-of-a-kind, tape-like solution that selectively changes color in the presence of hydrogen gas. Since hydrogen gas is odorless and colorless, visual detection means that the leak source can now be quickly pinpointed for repair.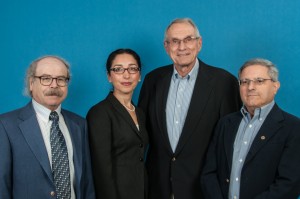 UCF's FSEC received multiple requests for samples to be tested by potential customers. Realizing the potential benefits and commercial market for such technology, NASA and UCF combined patent portfolios and jointly licensed the technology. To date, the technology has four issued patents, and five pending applications. Both UCF and NASA filed patents on various aspects of the technology. The advanced safety solution, known as Intellipigment™, was made available to the commercial market last year through HySense Technology—a company founded by one of the FSEC technology developers.
Recognition by the R&D 100 Awards program confirms the great technology progress that can be achieved through partnerships, collaboration, and ingenuity.
The banquet and award presentation will be held at the Bellagio in Las Vegas, Nevada on November 7th. The full list of winners is showcased in the September/October issue of R&D magazine, and the list of winners is also available at:
http://www.rdmag.com/award-winners/2014/08/2014-r-d-100-award-winners.