By Sherri Shields
COCOA, Fla., March 16, 2015 – Electric Vehicle drivers now have a place to charge up on the Space Coast in Cocoa. Located just two miles off State Road 528, otherwise known as the "Beachline,"—a main artery connecting Orlando to the Space Coast —the University of Central Florida's Florida Solar Energy Center (FSEC) is now home to a Direct Current (DC) Fast Charger and a dual Level 2 charger.
The grand opening of UCF's re-charging facility at FSEC is scheduled for Friday, March 20 at 11 a.m. Nissan will be offering a Ride & Drive for the all-electric Nissan LEAF® from 11:30 a.m. until 1:00 p.m. A variety of electric and plug-in hybrid vehicles will also be on display. The public is invited to attend and participate in this special event.
Donated by Nissan North America, and provided by NovaCharge, a leading provider and integrator of EV charging solutions nationwide, the DC Fast Charger is a first for UCF, as well as the City of Cocoa.
"We're excited to have such a valuable resource for the electric vehicle community right in our backyard," said City of Cocoa Mayor Henry Parrish III.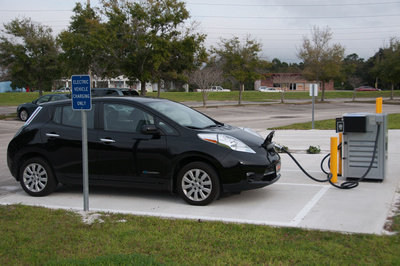 The fast charger—using a CHAdeMO connector—will charge a Nissan LEAF to 80 percent capacity in 30 minutes. It is expected that the station will also offer charging for electric vehicles that use the SAE Combo connector in the future. This valuable resource will help expand the EV community by offering services to a variety of vehicles using different charging standards.
"Nissan is promoting EVs by making LEAF an affordable and fun-to-drive car, while helping to build public charging infrastructure in the communities where people live, work and play," said Brendan Jones, Nissan's director of EV Sales and Infrastructure Strategy. "We're happy to see leading institutions like the University of Central Florida joining the charge to encourage people to drive electric."
UCF's re-charging facility at FSEC also includes a 240-volt dual Level 2 charger, which can charge electric vehicles using the SAE standard J1772 connector in three to four hours. Customers will pay 15 cents per kilowatt hour or $1.00 minimum for a charge using the dual Level 2 charger, and 15 cents per kilowatt hour or $1.50 minimum for a charge using the DC Fast Charger. Both of these units are available 24 hours a day to the general public and can be used through free smartphone applications, or with any RFID enabled credit card. Easy to follow instructions are on each station.
Both of these new chargers are networked, and will provide a source of research data for UCF's Electric Vehicle Transportation Center at FSEC. The data collected will be analyzed to determine the effects of EV charges on electrical grid integration, as well as their impact on building electrical demands.
In addition to promoting workplace charging—FSEC has at least five EV drivers now—the new charging stations also provide a means for faster adoption of electric vehicles, which is better for the community.
"Most people drive less than 40 miles per day, well within the range of an all-electric vehicle," said FSEC Director James Fenton. "Most days, I drive 50 miles, and when I plug into the standard electrical outlet in my garage at night, I go from 50 percent to a full battery charge in the morning."
UCF's FSEC is located at 1679 Clearlake Road, Cocoa, FL 32922.
About Nissan LEAF
With more than 165,000 global sales since launch, Nissan LEAF is the world's best-selling electric vehicle. LEAF seats up to five passengers and boasts an estimated driving range on a fully-charged battery of 84 miles and MPGe ratings of 126 city, 101 highway and 114 combined. The effective price of a Nissan LEAF starts at about $23,000 after the available $7,500 federal tax credit, which is competitive with gas-powered cars while providing the benefits of lower running costs and less scheduled maintenance. For more information, visit www.nissanusa.com/LEAF.
About FSEC
The Florida Solar Energy Center (FSEC), a research institute of the University of Central Florida, is the largest and most active state-supported energy research institute in the nation. Current research activities include Advanced Energy Research: alternative transportation fuels, batteries, hydrogen and fuel cells; Buildings Research: energy-efficient buildings; and Solar Energy: solar water and pool heating, photovoltaic (solar electric) systems, testing, and certification. For more information about the center, visit http://www.floridaenergycenter.org or call the FSEC Public Affairs Office at 321-638-1015.
America's Partnership University
The University of Central Florida, the nation's second-largest university with nearly 60,000 students, has grown in size, quality, diversity and reputation in its first 50 years. Today, the university offers more than 200 degree programs at its main campus in Orlando and more than a dozen other locations. UCF is an economic engine attracting and supporting industries vital to the region's future while providing students with real-world experiences that help them succeed after graduation. For more information, visit http://today.ucf.edu.
PR15-03