By Janet McIlvaine
09/22/2016
The University of Central Florida's FSEC conducts energy audits, renewable energy assessments, and technical assistance for the USDA Rural Energy for America Program (REAP) grant and loan program which is specifically for renewable energy systems and energy efficiency improvements. Any Florida agriculture operation or rural small business is eligible for FSEC support. The USDA subsidizes 75% of FSEC's audit cost.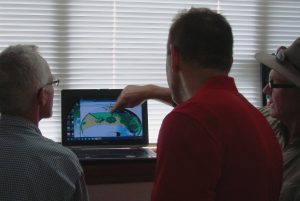 The audit includes an on-site visit to inventory energy use, utility bill analysis, evaluation of efficiency improvement options, projected annual energy savings, all summarized in a REAP-required Technical Report, and assistance with completing the technical portions of the application. Grants are eligible for up to 25% of eligible project costs and range from $2,500-$500,000 for renewable energy systems and $1,500-$250,000 for energy efficiency improvements.
Examples of eligible renewable energy systems and energy efficiency upgrades include but are not limited to:
Solar water heating systems
Solar electric (photovoltaic) panels (See FSEC site PV assessment photos)
Insulation, air sealing, and duct sealing (See FSEC site insulation assessment photos)
Ventilation fans, heaters, etc. for live stock barns and green houses
Heating, ventilation, and air conditioning systems (HVAC)
Insulation, air sealing, and dust sealing/replacement
Lighting and appliances
Coolers or refrigeration units
Doors, windows, insulation, ducts
Switching to more efficient pumps for irrigation
Replacement of inefficient office equipment
If you have high energy bills, we can help you figure out or verify why and recommend improvements.
REAP applications require projected energy production and energy savings calculations. To assist applicants, USDA has arranged for deeply subsidized energy audits and assessments to be provided by the University of Central Florida through UCF's Florida Solar Energy Center, a third party research institute with decades of experience in renewable energy and building energy efficiency.
To receive this technical assistance from the Florida Solar Energy Center, you must qualify as an eligible REAP applicant (agriculture operation or rural small business), be located in Florida, and be seriously considering an eligible system, efficiency improvement, or construction project; HOWEVER, receiving an audit does not obligate you to submit a REAP application.
To learn more, get help determining eligibility, and be considered for a subsidized energy audit for your agriculture operation or rural small business, contact your local USDA Area Office (see list below) or a member of the Florida Solar Energy Center's REAP team:
We look forward to helping you take advantage of this extraordinary USDA funding opportunity!
REAP Contacts at USDA's Rural Development Area Offices in Florida*
Area 1, Crestview (850) 682-2416
Ms. Jennifer Dillard (ext 128), Jennifer.Dillard@fl.usda.gov
Escambia, Holmes, Okaloosa, Santa Rosa, and Walton Counties.
Area 2, Marianna (850) 526-2610
Ms. Loria Philips, Loria.Phillips@fl.usda.gov or any member of the REAP team
Bay, Calhoun, Franklin, Gadsden, Gulf, Jackson, Jefferson, Leon, Liberty, Wakulla, and Washington Counties.
Area 3, Lake City (386) 719-5590
Ms. Elda Rogers (ext 110), Elda.Rogers@fl.usda.gov
Baker, Bradford, Clay, Columbia, Duval, Hamilton, Lafayette, Madison, Nassau, Suwannee, St. Johns, Taylor, and Union Counties.
Area 4, Ocala (352) 732-7534
Ms. Danielle Ehlers (ext 121), danielle.ehlers@fl.usda.gov
Alachua, Citrus, Dixie, Flagler, Gilchrist, Lake, Levy, Marion, Putnam, Seminole, Sumter, and Volusia Counties.
Area 5, Davenport (863) 420-4833
Ms. LaTasha Thomas-Pace (ext 118), Latasha.ThomasPace@fl.usda.gov
Brevard, Hernando, Hillsborough, Indian River, Orange, Osceola, Pasco, Pinellas, and Polk Counties.
Area 6, Royal Palm Beach (561) 792-2727
Ms. Yashira Mendez (ext 130), Yashira.Mendez@fl.usda.gov
Broward, Dade, Glades, Hendry, Highlands, Martin, Monroe, Okeechobee, Palm Beach, St. Lucie, Charlotte, Collier, DeSoto, Hardee, Lee, Manatee, and Sarasota Counties.
Note: The above list of REAP Specialists was compiled in February of 2016 for reference and convenience of potential REAP applicants in Florida by the Florida Solar Energy Center. Specialists noted above are subject to change and may be only one of an Area Office's REAP team.
*Not in Florida? Contact your state or local USDA office: http://www.rd.usda.gov/browse-state