COCOA, June 5, 2017—Nearly 50 schools across Florida—from Key West and Tallahassee—participated in this year's EnergyWhiz competition last month at the University of Central Florida's Florida Solar Energy Center.
More than 115 teams, which included nearly 500 students, prepared their projects for competition: model-sized solar cars for the Junior Solar Sprint (JSS), solar ovens for the Cook-off, full-scale photovoltaic panels for Energy Innovations, energy-efficient animal homes for the Critter Comfort Cottage competition, and go-cart-sized electric cars for the Electrathon.
In the longest running event, JSS, cars underwent inspection, design judging, time-trials, and new this year, team interviews. "Questions from judges may sometimes be intimidating, but interviews give students the opportunity to shine when they've put their heart and soul into a project," said Guytri Still, JSS lead design judge and former middle school science teacher.
South Sumter Middle school student, Lauren Pike of Junior Solar Sprint Team Lightning McQueen, explained how her sixth grade science project on paper airplanes helped her decide how to best position the solar panel on the car aerodynamically. Spencer Aramburu-Perkins from Passport Charter in Orlando explained how she changed her JSS car chassis design from last year, and how she discovered at another race that she needed to reverse the polarity of the motor to make the car go in a different direction than she had it initially set up for.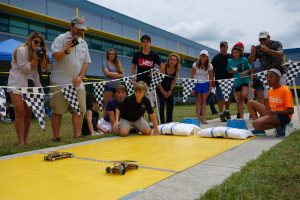 Weather is always a factor when using solar, and in the final races of Junior Solar Sprint the clouds moved in, but fortunately students were able to easily switch from solar to battery backup to finish the races.
"Sun is an equal opportunity energy source, which means teams compete under the same conditions, but overcast skies often create race delays. If the clouds create too much interference, we switch to batteries, which is another valuable engineering lesson for students," said Susan Schleith, K-12 energy education director at FSEC.
This year's EnergyWhiz Electrathon set a new record for organizer Electrathon of Tampa Bay with the number of cars participating at 19.  The go-cart electric vehicles needed to make as many laps around the 1500-foot track as they could in one hour. "This course was challenging and unique with a great mix of high school, postsecondary and open class teams participating. Many of the attendees who watched the races were excited and curious about how they could build their own Electrathon vehicle. We can't wait for next year's event!," said Freddi Beck of Electrathon America.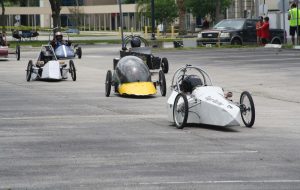 Shining stars in the Energy Innovations event were eighth grade future engineers from Howard Middle School Academy for Visual and Performing Arts. The Cerebral Palsy Playground (CP-PG) was designed for children with Cerebral Palsy to improve their fine motor skills while still having fun. The CP-PG is solar powered, safe, and can lead to hours of play. It is made up of different tactile activities, including large, different shaped puzzle pieces with suction cups, a Velcro dartboard, different colored push-button light switches, and even a bubble blower. Great measures were taken to ensure the design's safety, including evaluated by someone experienced in working with Cerebral Palsy kids.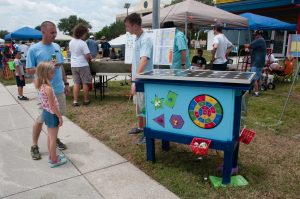 One of three team members, Leyton Elliott, said he learned a lot about Cerebral Palsy while doing this project and realized that "Everything matters in engineering."
As a student of teacher Eric Yuhdsz for three years, Elliott explained Yuhdsz's philosophy, "Everybody doesn't have to be an engineer, he just wants everyone to think like one."
Last year in teacher Yuhdsz's 3D Design and Modeling class, students worked on leg braces for kids with Cerebral Palsy, since they walk on their toes. His team needed a project for this year's EnergyWhiz competition and decided to find another way to help them.
Teacher Yuhdsz says typical eighth graders are biologically wired to think about themselves. These students, however, are quite the opposite.
"EnergyWhiz is the most authentic learning there is. I wish there were more events like this," added Yuhdsz
A parent commented about EnergyWhiz, "It was amazing to see so many bright young students with their inventions, and their enthusiasm was quite infectious. The whole project has captured Connor's attention and the many exciting things to see and experience at the competition itself has him thinking about sustainable energy and being someone committed to making a difference. The importance of both is hard to quantify."
The sucess of EnergyWhiz is dependent on volunteers and sponsors. This year's sponsors include: FPL, Duke Energy, Publix Super Market Charities, Airport Chrysler Dodge Jeep, American Muscle Car Museum, Central Florida Clean Cities Coalition, Smart Electric Power Alliance, ESA Renewables, LifeStyle Homes, and Solar Ray.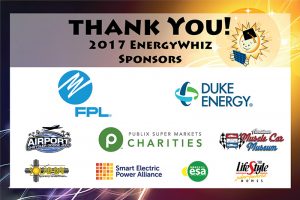 Learn how to become a volunteer or a sponsor for next year's event, which will be held on May 12, 2018, at http://www.fsec.ucf.edu/go/energywhiz/.
Photo galleries of all the events and the award winners can be viewed at: http://fsec.zenfolio.com/ew2017
For more information about EnergyWhiz or for high resolution photos, contact Sherri Shields, Communications Director, at sherri@fsec.ucf.edu or 321-638-1019.
2017 EnergyWhiz Awards
Critter Comfort Cottage
Elementary Division
1st Place – Tiny Critters (Hedgehog) – Lake Nona Middle, Orlando
2nd Place – Triple F's (Ferrets) – Ocean Breeze Elementary, Indian Harbor Beach
3rd Place – Triple Tweet Home (Birds) – Lake Nona Middle, Orlando
Middle School Division
1st Place – E.R.P. Ace (Dog) – Hidden Oaks Middle, Palm City
2nd Place – The 5 Sun Gals (Dog) – Lake Nona Middle, Orlando
3rd Place – A Box of Quackers (Ducklings) – Edgewood Jr./Sr. High, Merritt Island
High School Division
2nd Place – Miranda & Shopie (Hampster) – Riverview High, Riverview
1st Place – The Frogsters (Frogs) – Edgewood Jr/Sr High, Merritt Island
WOW! Award Elementary Division
            The Three Cat-a-teers 2.0 (Cats) – Newberry Elementary, Newberry
WOW! Award Middle & High Divisions
E.R.P. Ace (Dog) – Hidden Oaks Middle, Palm City
Energy Innovations
Middle School Division
            1st Place – Cerebral Palsy Playground – Howard Middle School, Orlando
2nd Place – Terrestrial Incident Manager. – Milwee Middle School, Longwood
3rd Place – H2O Solution – Edgewood Jr./Sr. High School, Merritt Island
High School Division
1st Place – Solar Electric Car – Western High School, Davie
2nd Place – Solar Camping – Lyman High, Longwood
3rd Place – Hydro-Gro – Key West High, Key West
WOW! Award Middle School Division
Terrestrial Incident Manager. – Milwee Middle School, Longwood
WOW! Award High School Division
Solar Electric Car – Western High School, Davie
Junior Solar Sprint
Best Design – Green Division (Grades 4 – 6)
            1st Place – Vibot 3, McLane Middle, Brandon
2nd Place – Martinez Middle, Lutz
            3rd Place – Shelby Racing Team, Lithia Springs Elementary, Valrico
Best Design – Blue Division (Grades 7 & 8)
            1st Place – Vibot 1, McLane Middle, Brandon
2nd Place – Beast Mode, Lake Nona Middle, Orlando
            3rd Place – Solar Reaction, STEM Tech Neighborhood Academy, Melbourne
Most Innovative Green Division
            1st Place – Vibot 3, McLane Middle, Brandon
2nd Place – MMA Airlines, Ocean Breeze Elementary, Indian Harbor Beach
3rd Place – Team Phoenix, Keeth Elementary, Winter Springs
Most Innovative Blue Division
            1st Place – Team Displacement, Milwee Middle, Longwood
2nd Place – Savitar God of Speed, Berkley Accelerated Middle, Auburndale
3rd Place – Nimbus 3000, Passport Charter, Orlando
Race – Green Division
1st Place – Peregreen Falcon, Martinez Middle, Lutz
2nd Place – Vibot 3, McLane Middle, Brandon
3rd Place – Speed Demons, Martinez Muddle, Lutz
Race – Blue Division
1st Place – Vibots 1, McLane Middle, Brandon
2nd Place – JR Racing, McLane Middle, Brandon
3rd Place – Js on Wheels, Passport Charter, Orlando
Solar Energy Cook-off
Best Design – Yellow Division (Grades 4 – 6)
1st Place – The Light Chefs, Hidden Oaks Middle, Palm City
2nd Place – Sole Cibo, Lake Nona Middle, Orlando
3rd Place – Sun for You and Me, Cypress Park Elementary, Orlando
Best Design – Orange Division (Grades 7 & 8)
1st Place – Nona Chefs, Lake Nona Middle, Orlando
2nd Place – RB65 Gaming, Lake Nona Middle, Orlando
3rd Place – Solar Tropical, Milwee Middle, Longwood
Best Design – Red Division (Grades 9 – 12)
1st Place – Culinary Duo, Lake Nona High, Orlando
2nd Place – Solar APES and Culinary, Pine Ridge High, Deltona
3rd Place – The Party Pineapples, Lyman High, Longwood
WOW! Award Yellow Division
Sole Cibo, Lake Nona Middle, Orlando
WOW! Award Orange Division
Mid-Life Crisis, Milwee Middle, Longwood
WOW! Award Red Division
Sponge Bob Solar Chefs, Edgewood Jr/Sr High, Merritt Island
Culinary Award – Yellow Division
1st Place – Sizzle Sisters, Newberry Elementary, Newberry
2nd Place – Solar Flare, Classical Homeschool, Naples
3rd Place – The Light Chefs, Hidden Oaks Middle, Palm City
Culinary Award – Orange Division
1st Place – The Panel Powers, Hidden Oaks Middle, Palm City
2nd Place – Mid-Life Crisis, Milwee Middle, Longwood
3rd Place – Solar Tropical, Milwee Middle, Longwood
Culinary Award – Red Division
1st Place – Culinary Duo, Lake Nona High, Orlando
2nd Place – GEMS, Girl Scout Troop 30027, Stuart
3rd Place – Sponge Bob Solar Chefs, Edgewood Jr/Sr High, Merritt Island
Fresh From Florida Award Yellow Division
            Sizzle Sisters, Newberry Elementary, Newberry
Fresh From Florida Award Orange Division
TSL, Walker Middle, Orlando
Fresh From Florida Award Red Division
The Blazers, Sarasota Christian School, Sarasota
###
PR17-03
Please follow and like us: