By Sherri Shields
COCOA, Fla., May 21, 2018—A blanket of cloud-covered skies can be a real challenge for students to race Junior Solar Sprint (JSS) cars and keep solar oven temperatures sufficient for cooking.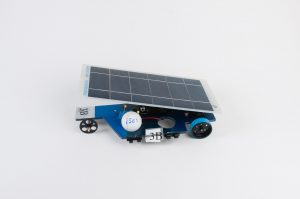 Although the sun never peeked through the clouds for the EnergyWhiz competitions on Saturday, May 12th, at the University of Central Florida's Florida Solar Energy Center in Cocoa, the JSS cars were still able to race. "One thing we've learned since hosting EnergyWhiz for the past 15 years is that if you want to stay on schedule, you need a backup plan in case the weather doesn't cooperate," said Susan Schleith, K-12 Education program director. "Battery backup is now an essential part of the car design, for situations like this."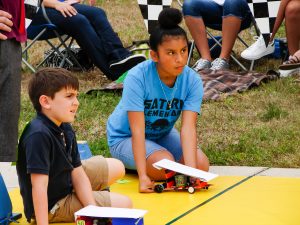 New to the JSS competition this year are two teams from Saturn Elementary School's After School Program. An Army Education Outreach Program (AEOP) grant provided funding for Schleith to work students who are underserved and underrepresented in Science, Technology, Engineering and Math. "I was able to work with the afterschool coordinator and students two days a month for nine months," said Schleith. The MX team finished in fourth place, and the Shakamelina team ranked in the top 10. "The kids had a lot of fun. You can tell how proud they are of what they did," said Marilea Pittenger, afterschool coordinator at Saturn Elementary.
Solar Energy Cook-off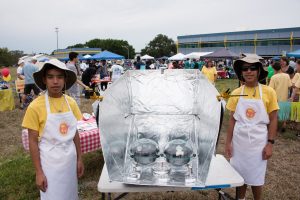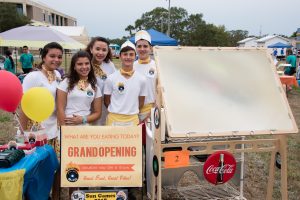 Backup plans for solar cooking are not as simple. Solar Energy Cook-off teams typically have backup recipes in case the sun is hidden behind the clouds, and most of the teams did this year. A few teams weren't able to present anything to the tasting judges, but that didn't stop them from discussing with the judges what they had planned and had tested prior to the event. "I give them credit for having the determination and creativity to follow through the process and not throw in the towel," said Cheryl Thorn, Solar Energy Cook-off team leader.
Solar Energy Cook-off teams use digital or infrared thermometers to help ensure food is safe for tasting. Solar Express from Milwee Middle School, who earned second place in Culinary and Best Design, still managed to cook thin strips of steak for their steak fajitas. How'd they do that? "A good solar cooker design can make all the difference," added Schleith. Solar cooking can be fun and Izaac Gonzalez from Milwee Middle School's Solar Express adds, "My favorite part about this competition is that I get to eat the leftovers." The instructors were pretty excited about EnergyWhiz too. "It's gratifying to see the students perform well in front of the judges, being able to translate what they've learned in class into a real-world situation," said Carol Unterreiner, Milwee Middle School instructor. "And then to a get a thank you from a student who felt he was able to adequately answer the judges questions about what he had learned, makes it all worthwhile," added John Kallin, partner instructor. Solar cooking teams are judged in the categories of Culinary, Best Design, Wow!, and Fresh From Florida, which incorporates Florida-grown ingredients.
Critter Comfort Cottage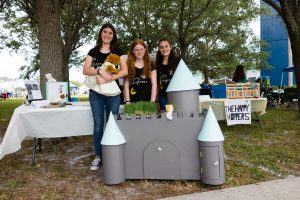 Not dependent upon the sun shining is the Critter Comfort Cottage (C3) competition, sponsored this year by Duke Energy. In this competition, students utilize energy-efficient and green building design and construction techniques to create the most cost-effective, environmentally friendly, comfortable "home" for their choice of animal. Teams must also create a communication and marketing component that effectively describes the features and benefits of their Comfort Cottage for the critter they have selected.
A repurposed plastic playground found by the side of the road now has a walk board, lined with popsicle sticks for traction, to the top of the slide and a pool of water at the bottom. "We saw a YouTube video of a duck going down a slide," explained Jonathan Devereaux from Ocean Breeze Elementary School. He was eager to show off his team's website, playground, and home for Florida Ducks, as well as introduce team members Cameron Saunders, Jaden Baker, Ashton Shock, and Andrew Saab. "The food dispenser was the most difficult part," added Devereaux. "And I didn't know ducks liked dog food until this project."
Energy Transfer Machine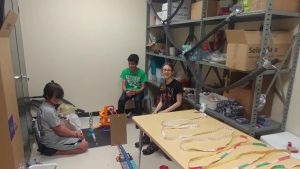 Energy Transfer Machine competition challenges students to transform everyday materials into a wacky, innovative machine that accomplishes a team-specified task at the one minute mark using a variety of energy transfers. Since Energy Transfer Machines are large and difficult to transport, students submitted a video of their machine in action, and then they were interviewed in person by the judges. The Phoenix Engineers from Innovation Middle School in Orlando earned a second place and WOW! award.
Energy Innovations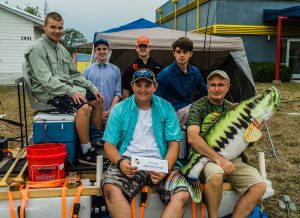 Using a full-size photovoltaic panel, middle and high school students are challenged in Energy Innovations to design and market a project. Full-scale projects can sometimes be expensive, so students are encouraged to use recycled materials whenever possible. "I spend the year keeping my eyes out for trash on the curb that could be useful. Then I show it to the students and tell them they need to develop a project with this and whatever else they can find. This year, I spent nothing on supplies for them. Either they used stuff I found or had, or they acquired it themselves," said Ryan Cilsick, Science Department Head at Edgewood Jr/Sr High School. The Charge Barge team said they only spent $40 on materials for their pontoon boat. They earned second place and the WOW! award in the high school division.
"There was a great showing by all teams with practical and useful applications of solar battery charging," said Ken Blackwell, Energy Innovations judge and senior engineer at FSEC.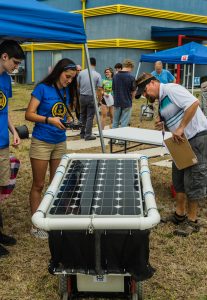 One project that stood out from the others and earned first place in the high school division was Lyman High School's Terrestrial Intelligent Machine (TIM), the disaster assistant robot. Using the base unit of an electric wheelchair and a video camera with a cellular link that connects to a web server, this photovoltaic-powered robotic device was designed so that it could carry first aid supplies to a hazardous place. It also had a sophisticated switching of batteries in series or parallel, depending on whether the operator wanted TIM to move faster or stay charged longer. "It was a very mature and well-executed design," said Blackwell.
Electrathon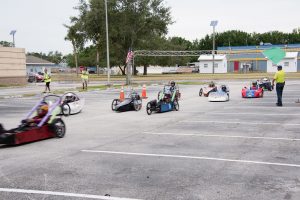 Electrathon of Tampa Bay held their ninth and final race day of the 2017-2018 season in conjunction with EnergyWhiz. Comprised of five High School Division cars, five Open Division cars and three Advanced Battery Division cars, these participant-designed and built, electric vehicles are powered by an electric motor and batteries.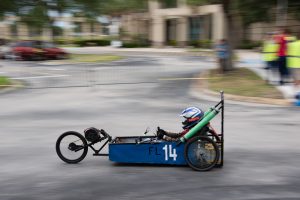 The go-cart-type vehicles must be skillfully designed and driven to maximize distance traveled within a given time limit. The high school team of Simmons Career Center car number 35 from Plant City finished fourth with 24 laps, but for the season, finished first with 348 points. "This is my first year sponsoring this team and I couldn't be prouder," said William Knight, instructor. "This sport teaches thinking outside the box, problem solving and teamwork," he added.
Our Future Energy Workforce

As a first-time sponsor of EnergyWhiz, the Florida Energy Workforce Consortium's goal is to retool our energy workforce with bright, young, forward thinking talent. "I'm blown away with this event; it gives me hope. That out-of-the-box thinking is what we need," said Chair-elect, Marlin Vaughn. "I had great interaction with the parents of these talented students and shared with them our need for their child to stay on this track toward a career in the energy sector."
Awards
The complete list of award winners can be found here: https://blog.energyresearch.ucf.edu/2018/05/2018-energywhiz-awards/
A gallery of photos can be seen here: http://fsec.zenfolio.com/ew2018
For more information about EnergyWhiz, visit http://www.fsec.ucf.edu/go/energywhiz/ or contact Susan Schleith.