COCOA, Fla., August 17, 2018 — The University of Central Florida congratulates seven outstanding science teachers who received the distinguished Exemplary Science Teacher Award from the Space Coast Science Education Alliance (SCSEA) on August 7 at UCF's Florida Solar Energy Center (FSEC). The award is given in recognition of Brevard County teachers who continually go above and beyond the norm to educate their students in science.
The 2018 SCSEA Exemplary Science Teacher award winners are Michelle M. Berry, Endeavour Elementary; Roger Cohen, Gemini Elementary; Jennifer Cotton, Titusville High; Jeffrey Higginbotham, Rockledge High; Angela Lambert, Harbor City Elementary; Aaron Mitchell, Bayside High; and, Tammie Rutkowski, Riviera Elementary. Roger Cohen and Tammie Rutkowski were also inducted into the Exemplary Science Teacher Hall of Fame, as this was their second award.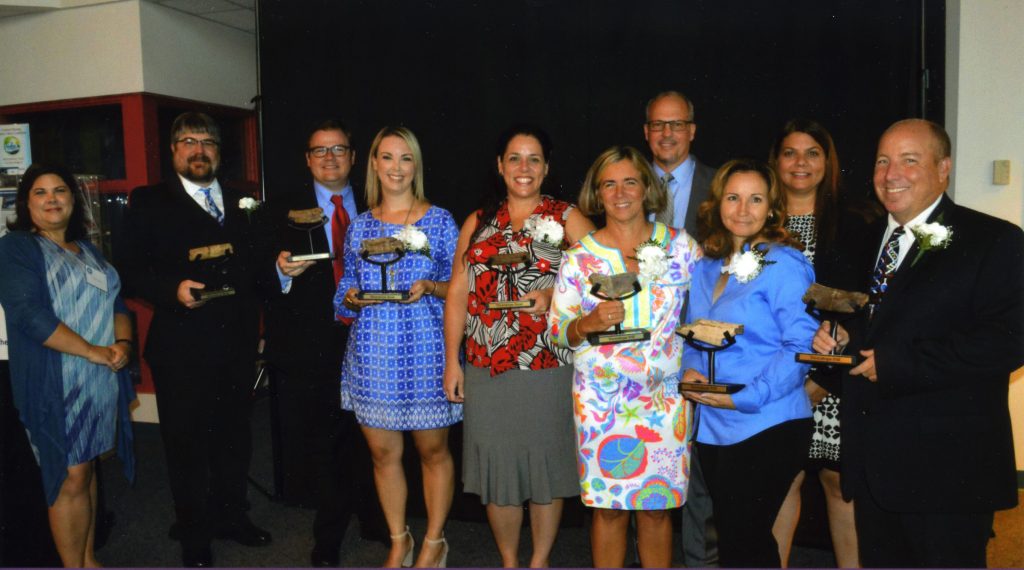 New BCPS Superintendent Dr. Mark Mullins presented the unusual "awards" that drew much excitement from the recipients. Each teacher received a Triceratops fossil that had been carefully mounted as a display piece by the Academy of Natural History Preparation, a nonprofit science education organization located in Rockledge. In addition to the elegant banquet provided by Renaissance Catering, each teacher received an honorarium and a one-year membership to a science education organization, such as the Florida Association of Science Teachers.
The inaugural SCSEA Exemplary Science Teacher awards banquet was held in 1999 at FSEC. "When we started this program 20 years ago, it was to encourage exemplary science teachers to keep up the great work and for the Space Coast community to say thank you for the sacrifices that teachers and their families make. That goal remains the same," said Susan Schleith, SCSEA Treasurer and FSEC K-12 Education Program Director. The great science teachers that we have in Brevard are a key reason Brevard is among the top Florida school districts in science.
"The importance our businesses, industry and other organizations place on science makes Brevard County a very special place to live and work", said Ginger Davis, retired BPCS Science Coordinator and SCSEA Vice President. That was evidenced by the numerous sponsors from across the Space Coast that made the awards program and banquet possible. Gold sponsors were Brevard Zoo, Canaveral Council of Technical Societies, Florida Institute of Technology, Florida Solar Energy Center, Lockheed Martin, STEMScopes Florida and the Viera Company. Silver sponsors were Academy of Natural History Preparation, Discovery Education, Dixie Crossroads Seafood Restaurant, Houghton Mifflin Harcourt and McGraw-Hill.
A new award, the Informal Science Educator Award of Excellence in tribute of Elizabeth Melvin was also announced at the dinner by Jennifer Thompson. Brevard County is known for strong science education outside of the formal classroom, too. Organizations like Brevard County Parks and Recreation, Keep Brevard Beautiful and the Brevard County Natural Resources Management Department, where Mrs. Melvin last worked, contribute greatly to science literacy.
The evening had other special moments including recognition of Suzanne Leslie, retired from the Eastern Florida State College Planetarium and Observatory, for her support of the Exemplary Science Teacher Awards Program. For well over ten years the awards banquet had been held at the Planetarium in Cocoa, which is closed and may not re-open due to hurricane damage. John Latherow, who recently retired from Satellite High and who is a past Hall of Fame winner was recognized for his years of service and was invited to continue to inspire others by becoming a member of the Space Coast Science Education Alliance.
The SCSEA is a nonprofit representing organizations and individuals who work together to improve scientific education and STEM literacy in Brevard County. For more information about the Exemplary Science Teacher Awards or SCSEA, please visit www.spacecoastscience.org.
For more information, please contact Susan Schleith, SCSCEA Treasurer and FSEC K-12 Education Program Director, at susan@fsec.ucf.edu or 321-638-1017.
###