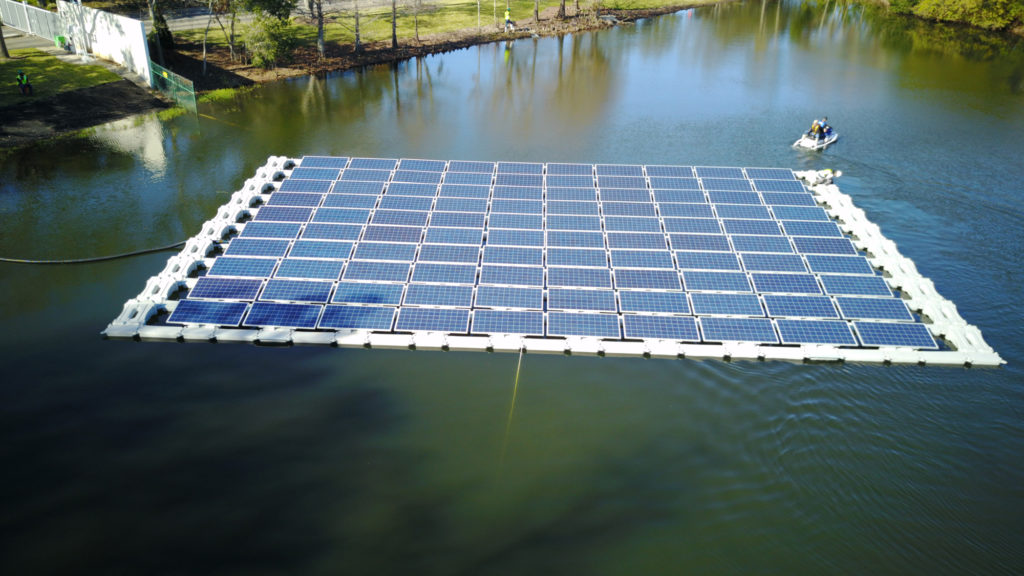 The University of Central Florida will lead a nationwide team to study the performance and long-term scalability of floating solar panels thanks to a $1 million grant from the U.S. Department of Energy Solar Energy Technologies Office.
UCF's Florida Solar Energy Center was selected to study the performance of floating photovoltaics (FPV) solar technology and how it interacts with water quality and biodiversity in Florida, California and Colorado.
The unlikely combination of electricity and water is the foundation of an emerging energy market in the United States. FPV is electricity-generating solar panels, affixed atop buoyant platforms that float on water.
Limited land availability, reduced site-preparation costs, and the opportunity to utilize man-made bodies of water, such as reservoirs, retention ponds and wastewater storage ponds, are among the reasons for FPV popularity. According to an October 2018 World Bank report, floating solar grew 100 percent from 2014 to 2018, although primarily outside of the U.S.
It is speculated that floating solar results in cooler cell temperatures, and subsequently should be more efficient than land-based systems. FPV may also reduce evaporation rates and algae. Research documenting the performance, durability and environmental impacts of floating solar is limited, but that's about to change. The research project is expected to begin early next year.
"We'll be taking an in-depth look at the floating photovoltaic systems over the next three years," says John Sherwin, principal investigator of the project and program director at FSEC. "This project is the first of its kind in the U.S. and we are excited to be part of a world-class research team that will collect critical data on this emerging technology."
Partners include: University of California Davis, National Renewable Energy Laboratory, Orlando Utilities Commission, City of Orlando and Ciel & Terre.
The project will monitor the performance, durability, water-quality impacts and biodiversity interactions of four existing floating solar sites across diverse climatic regions: humid subtropical in Florida; subarctic/boreal climate in Colorado; and two warm summer/Mediterranean-type climate sites, in California. Land-based systems in those same regions will also be monitored for comparison.
UC Davis will lead the environmental analysis part of the project.
"We're particularly interested in how floating photovoltaics affect water quality and interactions with wildlife, including birds, bats, turtles and other aquatic life," says Rebecca R. Hernandez, an assistant professor at UC Davis and co-director of the Wild Energy Initiative. "A better understanding of those impacts can help us make better decisions about siting renewable energy infrastructure and can reduce future costs."
The Orlando Utilities Commission was an early adopter of floating solar and installed a 31.5-kilowatt system in February 2017. The floating solar array, located on a pond at the Gardenia Operations Facility (near John Young Parkway and I-4) and tied to the electric grid, will be part of the study.
"We continue to work closely with our partners to enhance solar deployment in Central Florida, and to determine how best to implement the latest technologies," says Justin Kramer, supervisor of Emerging Technologies at OUC. "With so many ponds and lakes already devoid of trees, there is potential to greatly increase our solar output."
Floating photovoltaic systems covering 27 percent of the identified suitable water bodies could produce almost 10 percent of current national generation, according to National Renewable Energy Laboratory researchers.