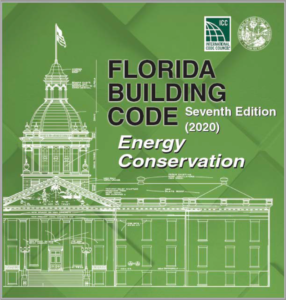 A new Florida Building Code went into effect on December 31. The 7th Edition Florida Building Code (2020) includes a number of changes to the Energy Conservation code. These changes will impact how new Florida buildings are constructed, lit, and controlled. A summary listing of some of the more impactful changes is provided below. Learn even more about the code changes and earn continuing education credits by attending short, live webinar training courses offered by the University of Central Florida's FSEC Energy Research Center.
Florida Energy Code Change Overview
Commercial buildings (Includes residential buildings 3 stories and higher) have a number of revised control requirements:
Revised ANSI/ASHRAE 90.1 Standard 2016 code application exempts Automatic Receptacle Control and Electrical Energy Monitoring
Buildings containing over 50 guest rooms must be provided with HVAC controls that reduce or cut off operation when the guestrooms are not occupied or rented.
Interior lighting devices and lighting controls sections are extensively revised and a new occupant sensor controls function requirement is added for open office areas.
Exterior lighting controls to have daylight shutoff, decorative lighting shutoff, lighting setback, and an exterior time-switch. Section C405.4.2 addressing exterior lighting power allowance is also revised and has significantly reduced power allowances.
Additionally, minimum efficiency requirements of a number of refrigerator, freezer, HVAC, service water heating equipment types, and electric motors are increased, consistent with newer federal standards.
Residential building changes include a number of equipment, lighting, and reporting revisions:
Electric resistance space heating is now prohibited for prescriptive compliance method projects located in Climate Zone 2 (all of Florida above Palm Beach County); electric resistance space heating can still be the primary heating system for Climate Zone 2 projects complying via the performance or Energy Rating Index (Section R406) method.
Whole-house mechanical ventilation fan efficacy stipulations require HRVs and ERVs to now have a minimum efficacy of 1.2 cfm/watt.
Permanently installed lamps must meet minimum efficiency levels increased to 90% versus 75% in the previous code.
New language provides dehumidifier requirements regarding minimum rated efficiencies, control, minimum insulation level (if installed in unconditioned space), condensate disposal, and ducting. These provisions are only applicable if the proposed project has a dehumidifier.
Service water heating performance compliance is now based on a new ANSI/RESNET/ICC 301-2019 standard.
New building and duct air leakage test reports have been added and the prescriptive R-value compliance form is extensively reformatted.
More In-Depth Document
There are a number of commercial and residential compliance paths for contractors to choose from, and some items in this article may only apply to certain compliance paths. More in-depth documents citing specific code language can be found at FloridaBuilding.org/bc/, under Code Resources or at http://www.fsec.ucf.edu/go/2020-code-changes.
Energy Code Training
The FSEC Energy Research Center offers instructor-led, live webinar courses designed to inform Florida building contractors and code inspectors about commercial and residential provisions of the new 7th Edition (2020) Florida Energy Conservation Code:
The 4-hour commercial course topics include an examination of building energy use contributors, introduction to the 7th Edition (2020) Florida Energy Conservation Code commercial provision changes, review of Commercial Energy Code compliance methods and tools, running sample calculations to assess the effects of specific improvements on energy efficiency and Code compliance, and verifying Code forms and identifying common errors. CILB CEUs: 4 credits; CILB# 0613600; Provider# 0000859
The 2-hour residential course topics include an overview of residential 7th Edition (2020) Florida Energy Conservation Code Prescriptive, Performance and Energy Rating Index (ERI) compliance options, and discussions of residential building air leakage testing, duct leakage testing and mechanical ventilation requirements. CILB CEUs: 2 credits; CILB# 0613599; Provider# 0000859
Explore all of the FSEC Energy Research Center's continuing education courses at https://energyresearch.ucf.edu/education/continuing-education/
For more information, contact Sherri Shields at sherri@fsec.ucf.edu.
###
PR21-01