UCF, one of seven teams selected by the Department of Energy to demonstrate innovative building energy retrofits, will determine if a pod system with heating and cooling capabilities is effective for retrofitting thousands of homes, including affordable housing.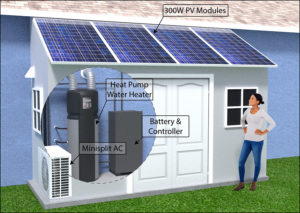 ORLANDO, March 30, 2022 – The University of Central Florida was recently awarded a grant worth $4.4 million from the U.S. Department of Energy to determine if a pre-packaged pod is an effective method to deploy very efficient heating, cooling and water heating systems to thousands of homes.
The DOE awarded $32 million to seven teams that will manage 30 demonstration projects nationwide. Finding effective ways to retrofit existing and older buildings to be more energy efficient is critical considering there are 130 million buildings in the United States today and about 75% of them are expected to still be standing in 2050, according to the DOE. Upgrading older homes is often expensive and intrusive, which makes homeowners less likely to make the investment. The pod system holds promise because it is expected to reduce energy use by 50-75% and is less disruptive to install, according to researchers.
FSEC Energy Research Center at the University of Central Florida, in partnership with National Association of State Energy Officials and ROC USA®, will retrofit eight manufactured homes and four single-family homes with the pod technology called PV-GEMS. The Photovoltaic (PV)-powered, Grid Enhanced Mechanical Solution (GEMS) consists of high-efficiency heat pumps for heating, cooling and water heating. This equipment is partially powered by a photovoltaic and battery backup system. Components are pre-packaged in a "pod" that is largely assembled off-site and installed outside of the home, minimizing disruption to residents.
"We have an opportunity to make a significant difference in reducing energy costs for people living in less-efficient existing homes, thereby making a lasting impact on people's lives," says Eric Martin, principal investigator on the project and program director at UCF's FSEC Energy Research Center. "The PV-GEMS concept is especially effective when deployed alongside more conventional cost-effective, non-disruptive energy-efficient retrofit strategies."
The university will demonstrate the retrofit strategy in six states across different climate zones —Colorado, Georgia, Massachusetts, North Carolina, Oregon and Texas. A commercialization plan to manufacture and deploy the retrofit strategy at scale will be developed, as well as training materials for installers.
"A unique feature of this system is that it doesn't need to send excess solar energy back to the utility grid and instead uses or stores the energy at the house," says Carlos Colon, co-principal investigator of the project. In addition to energy and carbon savings, the concept offers the additional benefit of resiliency by being able to operate when the grid goes down.
While PV-GEMS can work with most single-family attached and detached housing, the team is initially targeting older manufactured homes, which are often difficult to retrofit using traditional approaches. There are more than 6.7 million manufactured homes nationwide and 45% of residents who live in manufactured homes are highly energy burdened.
"The manufactured housing sector is in need of creative energy use and cost reduction strategies. We think PV-GEMS could be a game changer within the many of the communities we work with, and homeowners are already excited to see a pod installed in their community," says Kevin Porter, vice president of Loan Originations with ROC USA Capital, the lending arm of the nonprofit scaling resident ownership of manufactured housing communities nationwide.
###
PR22-04
[Updated: 04/01/2022]