Neither the cloudy forecast nor pandemic concerns were enough to discourage the teams that came together on Saturday, April 30th for the 2022 EnergyWhiz event!
EnergyWhiz is a daylong celebration of sustainable solutions, creativity and engineering skills, where students from throughout Florida came together to showcase their renewable energy projects. This year, elementary, middle, and high school teams designed and built everything from solar-powered electric vehicles to sun-powered cookers and "green" homes for pets and other critters to showcase and share at EnergyWhiz.
The event, presented this year by sponsor Florida Power and Light Company, is hosted each year at the FSEC Energy Research Center, a research institute at the University of Central Florida, located at the Cocoa Campus of the UCF and Eastern Florida State College.
This year's EnergyWhiz competitors participated in one of six categories: Junior Solar Sprint, Critter Comfort Cottage, Energy Inspired Art, Energy Innovations, Energy Transfer Machine and the Solar Energy Cook-off. Each competition category incorporates some type of energy efficiency measure or renewable energy technology.
Junior Solar Sprint is a competition that challenges upper elementary and middle-school students to design, build, and race model solar cars. Awards are given based on vehicle design, quality of craftsmanship, innovation, and speed.
The goal of JSS is to race cars powered by the sun with the use of solar electric (photovoltaic) panels. Cloudy skies created a challenge that showed how adaptable the teams were as they switched their vehicles from solar to battery power. In this way, teams demonstrated the functionality of their hybrid vehicle designs under varying weather conditions.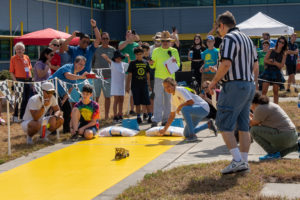 "For many years JSS was conducted the first Saturday in May with cars running completely on solar power," said Susan Schleith, program director of energy education at FSEC ERC. "However, hot summer-like temperatures and afternoon storms are arriving weeks earlier than in the past. To address that issue, EnergyWhiz was moved into April and the JSS rules were changed to require that cars include battery power. We were ready with rechargeable batteries and covers for the solar panels that leveled the playing field, so no one would have an unfair advantage if the sun emerged. Running the vehicles on solar power is our preference, but real-world challenges require us all to adapt."
Although the clouds finally dissipated before the competition was complete, the race needed to finish on battery power. "The rules state that once we switch to battery power, we have to stay on battery power to make it fair for everyone," Schleith explained.
Brad Nemcik, Orlando Science School fourth grade teacher, was quite pleased with the performance of his teams, especially since this was his first time at EnergyWhiz. "We had three teams at EnergyWhiz and all three made it into the races," said Nemcik. One of his teams, the Sun Runners, placed first in the races.
When asked what he thought led to the success of his teams, Nemcik described how he started a solar car club at Orlando Science School that meets every Wednesday afternoon for 30 minutes. They have been meeting since the beginning of the school year. "Consistency of [attending] the club is key," Nemcik explained. "The students can't do everything on the cars in the club, though; they have to bring the cars home to work on them too."
Another key to success? "Test, test, test! When the cars are on the track, you think they're going to be okay, but so much can go wrong," he said.
For any new teachers looking to get involved, Nemcik recommends having the students keep the designs simple. "The simple designs are the ones that seem to perform best."
Students' love of animals is clearly evident in the Critter Comfort Cottage competition. C3 is a real-world engineering and communications challenge. Each student team used green building design and construction techniques to create an energy-efficient, cost-effective, comfortable "home" for a critter of their choosing. Teams also produced a marketing plan that describes the features and benefits of their comfort cottage for their critter.
"This year our school participated in the virtual and in-person events," said Betty Rossie, science teacher at Joseph L. Carwise Middle School in Palm Harbor. "[We had] two teams in Critter Comfort Cottage and one Junior Solar Sprint. The students loved the in-person event! They had fun creating their cottage and the website and marketing material."
"We had one team finish in 2nd for C3 and they also won the WOW award for their division," Rossie added. "They are very excited to compete again next year!"
Energy Inspired Art was a new category for EnergyWhiz this year. The objective of EIA is to create a work of art that reflects, integrates or makes the viewer think about renewable energy, energy efficiency, and/or climate science. Any art media, technique, visual, performance, musical or literary art was allowed in this category. This year's submissions included sculptures, literary works, paintings, and projectsa inspired by green architecture. Pictures of these projects are posted on the EnergWhiz website.
Another category held this year was Energy Innovations for middle and high school students. The EI program is the most challenging for teams as it is a full-scale design and marketing challenge. Each participating team designs and constructs a product or artistic work fully powered by one or more renewable energy technologies. Teams also create marketing pieces-s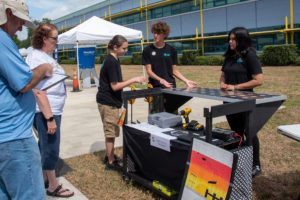 uch as brochures, fliers, videos and posters—to accompany and promote their products.
This year the sole entry of the EI event was Team Solar Work Station from Milwee Middle School, Longwood. They presented their project "Solar Constructor".
"It was a solar-powered work station," said Susan Schroen, business manager for FSEC ERC and one of the judges of the Energy Innovations category. "The solar panel could either charge your battery or run your equipment. It was weatherproof and they re-used items they found at the school to make it."
"They did a really good job!" Schroen added, after awarding Milwee with first place for the category. "I was very impressed with the thought, hard work and creativity that went into the execution of this project."
Energy Transfer Machine was also showcased at EW. Similar to the Rube Goldberg machines of past, ETM provides for students in grades three through 12 an opportunity to transform everyday materials into a wacky, innovative machine that performs a variety of energy transfers within a specified time. The machine must accomplish a team-specified task at the one-minute mark. Students video their machine's performance and submit it for judging at EnergyWhiz.
This year's ETMs were quite varied. Some were the size of a living room and others could fit on a tabletop. Orlando Science Schools swept this awards category with a first and second-place finish in the middle school tier, as well as winning the overall Precision Award.
The final category was the Solar Energy Cook-off competition. SECO challenges elementary through high school students to design and build solar thermal devices that get hot enough to cook a dish using a recipe of their own creation. In Top Chef-style, each creation is judged by a panel of experts based on taste, presentation, and creativity. Awards are also given for best design and use of Fresh from Florida or homegrown ingredients.
"As a judge, I look forward to this event each year," said Kelly Flowers, senior program director for the National Energy Foundation and one of the SECO judges. "The students are so enthusiastic about explaining their solar cookers and what type of food they are preparing. I really liked how several of the teams decorated the outside of their cooker to match the origin of their food choices."
It was expected that attendance would be low after two years of COVID and no in-person EnergyWhiz activities. Although numbers were down, the caliber and enthusiasm of the teams, teachers, parents, family and friends who attended made it more than worthwhile.
"I feel EnergyWhiz 2022 was a huge success," Elizabeth Myron, Creative Marketing Specialist for FSEC, said. "After talking and visiting with competition entrants, parents and exhibitors, the feedback received was that everyone was excited to be out, extremely pleased with the overall event, and the children had a great deal of fun."
"I have been doing Energy Whiz for many years," said Holly Mentillo, Ocean Breeze Elementary K-6 gifted student program teacher from Satellite Beach. "It is a wonderful opportunity for my students. They learn to work together and make decisions. They can be creative. They have the opportunity to succeed and to win, but they also have the chance to lose, to fail. Both can be learning experiences, invaluable life lessons."
Pictures from the event can be found at https://fsec.zenfolio.com/ew2022. For more information on EnergyWhiz, including how to participate in future in-person and virtual events, visit www.energywhiz.com.
###
PR22-08