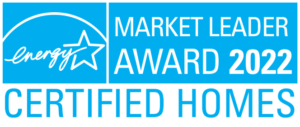 COCOA, FL, June 30, 2022 – FSEC Energy Research Center at the University of Central Florida is proud to announce that it has earned a 2022 ENERGY STAR® Market Leader Award from the U.S. Environmental Protection Agency (EPA) in recognition of its contribution to verifying energy-efficient new homes that have earned ENERGY STAR certification. ENERGY STAR certified homes are at least 10% more energy efficient than those built to code and achieve a 20% improvement on average while providing homeowners with better quality, performance, and comfort.
The Market Leader Award recognizes partners participating in EPA's ENERGY STAR Residential New Construction program who have made a significant positive impact in energy-efficient construction and environmental protection by building or verifying at least 50 ENERGY STAR certified homes and apartments, or by sponsoring a local program that supported these activities, over the past year. More than 120,000 ENERGY STAR certified single-family homes and multifamily units were built in 2021, for a total exceeding 2.3 million since 1995.
"This award is a result of Providence Homes' commitment to EPA to build 100% ENERGY STAR homes, and Jacksonville Building Science, as a certified Home Energy Rater, testing and certifying each home," says Tei Kucharski, program coordinator at FSEC Energy Research Center. Home Energy Raters provide rigorous testing and inspection protocols to verify homes meet energy efficiency expectations, and ensure homeowners get what they pay for. FSEC provides quality assurance of the certified Home Energy Raters under their purview.
Providence Homes built 153 homes last year—from Jacksonville to St. Augustine—that are 100% ENERGY STAR certified. That is equivalent to reducing CO2 emissions by nearly 224 metric tons, removing 48 gas-powered vehicles from the road or saving 207,361 kWh of electricity.
Providence Homes has been building ENERGY STAR homes since 2009. "We chose to build ENERGY STAR for a combination of reasons, to make homes more affordable, energy efficient, and a cleaner environment," said Robert Goettlicher, VP Sales and Marketing.
"There's not just one part that we're putting in the home that makes it ENERGY STAR. We refer to it as, a house is a system. It's a whole process, starting from the design, that helps us meet the ENERGY STAR standards."
Providence Homes is a high-quality builder that exceeds even ENERGY STAR's standards. Jacksonville Building Science rates all of their homes, performs the load calculations, and designs the duct work. "ENERGY STAR doesn't require test and balance, but we do," says Michael O'Donoughue, owner of Jacksonville Building Science. "We also make sure that their insulation is Grade 1, and if it's not, the contractors fix it."
Providence Homes customer testimonials speak for themselves. "A couple of our customers said that they went from a smaller house to a larger house and the energy bill was less. That's something everybody understands without getting too technical," added Goettlicher.
"Our 2022 Market Leader Award winners demonstrate true leadership in bringing energy efficiency to the residential new construction marketplace," said Jonathan Passe, Chief of the ENERGY STAR Residential Branch. "ENERGY STAR offers a proven whole-house approach that is transforming the residential market to a higher standard of construction quality while protecting the environment for all."
Visit the ENERGY STAR Market Leader Award web page  to see the full list of this year's award recipients.
About FSEC Energy Research Center
The FSEC Energy Research Center, an energy research and education institute at the University of Central Florida (UCF), was established by the Florida Legislature in 1975 as Florida Solar Energy Center® (FSEC®). FSEC has a history of basic and applied research excellence and has gained national and international respect for its public and private partnerships, focusing on: solar energy, energy-efficient buildings, hydrogen and fuel cells, electric vehicles, smart-grid research, and testing and certification of solar equipment. The Center contributes to the development of Florida building energy code and policy, and conducts continuing education and training programs for professionals, government and industry leaders around the world, in addition to providing Science, Technology, Engineering and Mathematics (STEM) opportunities for the future energy workforce.
About ENERGY STAR
ENERGY STAR® is the government-backed symbol for energy efficiency, providing simple, credible, and unbiased information that consumers and businesses rely on to make well-informed decisions. Since 1992, ENERGY STAR and its thousands of partners have helped American families and businesses save 5 trillion kilowatt-hours of electricity, avoid more than $500 billion in energy costs, and achieve 4 billion metric tons of greenhouse gas reductions. More background information about ENERGY STAR can be found at energystar.gov/about and energystar.gov/numbers.
MEDIA CONTACT: Sherri Shields
EMAIL: sherri@fsec.ucf.edu
PHONE: 321-638-1019
PR22-10
###