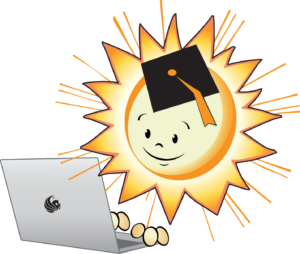 From crazy contraptions that take you around the world, to super speedy solar cars, this year's EnergyWhiz Virtual was diverse and inspiring. Visit https://www.energywhiz.com/energywhiz-virtual-2023/ to see the projects. The award winners are listed below.
Be sure to join us for EnergyWhiz in-person on April 22, 2023 (Earth Day) at the Florida Solar Energy Center (FSEC) in Cocoa. Projects at the in-person event include Critter Comfort Cottage, Electrathon, Energy Inspired Art, Junior Solar Sprint, and the Solar Energy Cook-off. Exhibits and tasty food truck fare will also be there. All are invited to participate in an EnergyQuest (scavenger hunt) and win a prize.
This year's sponsors include FPL, KUA, Duke Energy, LifeStyle Homes, Florida Association of Sleep Technologists, Central Florida Clean Cities Coalition, and Drive Electric Florida.

Critter Comfort Cottage
Grades 3 – 5
1st Place – Sustainable Aquaponics – Timberlin Creek Elementary (St. Augustine)
Animal – Tropical fish
Teacher – Sharon Moody
Student – Nicole
2nd Place – Home Sweet Hive – Centennial Elementary (Dade City)
Animal – Carpenter bees
Teacher – Tabitha Corona
Student – Briallen
3rd Place – Golden Fish – Ocean Breeze Elementary (Indian Harbor Beach)
Animal – Mosquito fish
Teacher – Holly Mentillo
Students – Callie, Helena
Grades 6 – 8
1st Place – iCasa – Pine Crest School (Boca Raton)
Animal: Bearded Dragon
Teacher – Kris Swanson
Students – Isha, Charles, Ada, Samantha, Ava
2nd Place – TBH Team Bunny House – Pine Crest School (Boca Raton)
Animal: Dwarf Rabbit
Teacher – Kris Swanson
Students – Genevieve, Ari, Jessica, Maddie

Energy Inspired Art
Grades K-2
1st Place – Windy Art Farm – Osceola Science Charter (Kissimmee)
Teacher – Amy Trujillo
Students – Adam
2nd Place – Survival Islands – Cape View Elementary (Cape Canaveral)
Teacher – Sherry Travers
Students – Jackson, Kadri, Crillen
3rd Place – Windmills Around the Earth – Ocean Breeze Elementary (Indian Harbor Beach)
Teacher – Holly Mentillo
Student – Lyrric
Grades 3 – 5
1st Place – Lungs of the Earth – Orlando Science Elementary (Orlando)
Teacher – Amy Trujillo
Student – Akshara
2nd Place – Native Plant Collage – Timber Lakes Elementary (Orlando)
Teacher – Karin Hammond
Students – Claire, Anay, Carelliz, Jakob, Alyssa, Emma, Evan, Kyler, Leo, Max, Madison,
Aerilyn, Mia
3rd Place – Save the Earth – Brevard Virtual rd School (Brevard County)
Teacher – Franchesca Rosado
Student – Bryson
Grades 6 – 8
1st Place – Annmadean – Pershing K-8 (Orlando)
Teacher – Heather Febres
Students – Annmarie, Austin
2nd Place – Energy Effciency Enthusiasm – Brevard Virtual School (Brevard County)
Teacher – Franchesca Rosado
Student – Victoria
3rd Place – Nature's Windmill – Walker Middle School (Odessa)
Teacher – Trista Johnson
Student – Sri mani bala
Energy Transfer Machine
Grades 3 – 5
1st Place – Around the World – Carillon Elementary (Oviedo)
Teacher – Dawn McCullough
Students – Harrison, Aziz, Danny, Justina, Anika, Aanya
2nd Place – The Fly Swatter – Archer Academy Homeschool (Maitland)
Teacher – Sandra Archer
Students – Camden, Sean
3rd Place – The Strikers – Timber LakesElementary (Orlando)
Teacher – Holly Mentillo
Students – Teddy, Pierce, River
Grades 6 – 8
1st Place – Effort 0% – Orlando Science Schools (Orlando)
Teacher – Amy Trujillo
Student – Neil
2nd Place – Rise or Shine – Orlando Science Schools (Orlando)
Teacher – Amy Trujillo
Students – Aarit, Anishka
3rd Place – Galactic Warriors – Cape View Elementary (Cape Canaveral)
Teacher – Sherry Travers
Students – Charley, Ry
Grades 9 – 12
1st Place – Winter Springs HS Energy Trans-bears – Winter Springs High (Winter Springs)
Teacher – Jenna Nikles
Students – Cindy, Zoe, Emily, Iris, Megan, Brinlie
2nd Place – Central Perks – Winter Springs High (Winter Springs)
Teacher – David Johnson
Students – Lena, Hannah, Diya, Aylah, Carissa
Precision Award (Grades 3 – 12)
53.5 seconds – Effort 0% – Orlando Science Schools (Orlando)
Teacher – Amy Trujillo
Student – Neil

Junior Solar Sprint
Green Division (Grades 4 – 6)
Best Design
1st Place – Rubber Bandits – Pine Crest School (Boca Raton)
Teacher – Kris Swanson
Students – Evan, Zachary
2nd Place – Space Ranger Bunny – Osceola Science Charter (Kissimmee)
Teacher – Amy Trujillo
Students – Adam, Eros, Yzabelle, Joseph
3rd Place – AEA – Pine Crest School (Boca Raton)
Teacher – Kris Swanson
Students – Adriana, Emily, Amalie
Most Innovative
1st Place – Space Ranger Bunny – Osceola Science Charter (Kissimmee)
Teacher – Amy Trujillo
Students – Adam, Eros, Yzabelle, Joseph
2nd Place – W.O.A.H. Bunch the Electrons – Pine Crest School (Boca Raton)
Teacher – Kris Swanson
Student – Alexander, Mike, Shea
3rd Place – Midnight Madness – Pine Crest School (Boca Raton)
Teacher – Kris Swanson
Students – Andrew, Dylan, Liam
Blue Division (Grades 7 & 8)
Best Design
1st Place – Dave – Cornerstone Learning (Tallahassee)
Teacher – Karen Metcalf
Students – Logan, Jamie
2nd Place – Solar Roller – Palmetto Middle (Pinecrest)
Teacher – Allison Cohen
Students – Fredrick, Jake, Spencer, Marco
3rd Place – Windshield Viper – Cornerstone Learning (Tallahassee)
Teacher – Karen Metcalf
Students – Amery, John, Kai
Most Innovative
1st Place – Windshield Viper – Cornerstone Learning (Tallahassee)
Teacher – Karen Metcalf
Students -Amery, John, Kai
2nd Place – Lunar Car – Cornerstone Learning (Tallahassee)
Teacher -Karen Metcalf
Students – Alec, Charles, Leo
3rd Place – Welcome to the Flash – Palmetto Middle (Pinecrest)
Teacher – Allison Cohen
Students – Alyssa, Sophia, Megan, Zoey

Solar Energy Cook-Off
Yellow Division (Grades 3 – 5)
1st Place – Solar Sisters – Ocean Breeze Elementary (Indian Harbor Beach)
Teacher – Holly Mentillo
Students- Camdyn, Willow, Aria
2nd Place – Space Chefs – Ocean Breeze Elementary (Indian Harbor Beach)
Teacher – Holly Mentillo
Students – Hailey, Ella, Maci, Hazel
Orange Division (Grades 7 & 8)
1st Place – Fearless Chefs – Pine Crest School (Boca Raton)
Teacher – Kris Swanson
Students – Liia, Kobi, Maya, Sophie, Victoria
2nd Place – Solar Sisters – Pine Crest School (Boca Raton)
Teacher – Kris Swanson
Students – Abi, Charlotte, Jordyn, Langley, Sanni, Sofia
3rd Place – The Traveling Tasters – Wellington Landings Middle (Wellington)
Teacher – Kathleen Heidrich
Students – Brody, Kemily, Jake, Avery, J'hase