UCF, one of seven teams selected by the Department of Energy to demonstrate innovative building energy retrofits, will determine if a pod system with heating and cooling capabilities is effective for retrofitting thousands of homes, including affordable housing.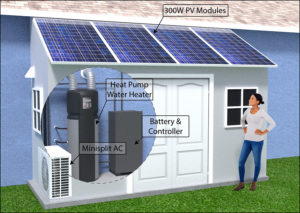 ORLANDO, March 30, 2022 – The University of Central Florida was recently awarded a grant worth $4.4 million from the U.S. Department of Energy to determine if a pre-packaged pod is an effective method to deploy very efficient heating, cooling and water heating systems to thousands of homes.
The DOE awarded $32 million to seven teams that will manage 30 demonstration projects nationwide. Finding effective ways to retrofit existing and older buildings to be more energy efficient is critical considering there are 130 million buildings in the United States today and about 75% of them are expected to still be standing in 2050, according to the DOE. Upgrading older homes is often expensive and intrusive, which makes homeowners less likely to make the investment. The pod system holds promise because it is expected to reduce energy use by 50-75% and is less disruptive to install, according to researchers.