By Sherri Shields
COCOA, Fla.,  May 21, 2018—A blanket of cloud-covered skies can be a real challenge for students to race Junior Solar Sprint (JSS) cars and keep solar oven temperatures sufficient for cooking.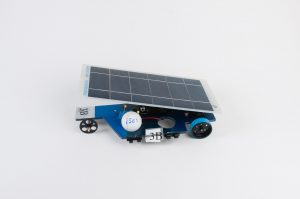 Although the sun never peeked through the clouds for the EnergyWhiz competitions on Saturday, May 12th, at the University of Central Florida's Florida Solar Energy Center in Cocoa, the JSS cars were still able to race. "One thing we've learned since hosting EnergyWhiz for the past 15 years is that if you want to stay on schedule, you need a backup plan in case the weather doesn't cooperate," said Susan Schleith, K-12 Education program director. "Battery backup is now an essential part of the car design, for situations like this."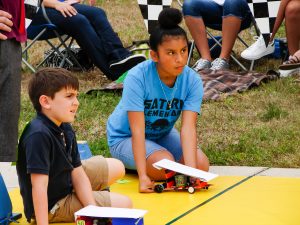 New to the JSS competition this year are two teams from Saturn Elementary School's After School Program. An Army Education Outreach Program (AEOP) grant provided funding for Schleith to work students who are underserved and underrepresented in Science, Technology, Engineering and Math. "I was able to work with the afterschool coordinator and students two days a month for nine months," said Schleith. The MX team finished in fourth place, and the Shakamelina team ranked in the top 10. "The kids had a lot of fun. You can tell how proud they are of what they did," said Marilea Pittenger, afterschool coordinator at Saturn Elementary.
Solar Energy Cook-off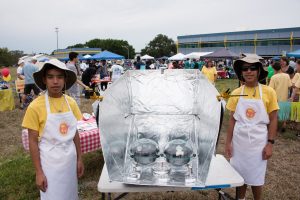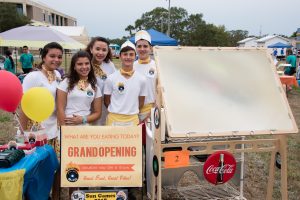 Backup plans for solar cooking are not as simple. Solar Energy Cook-off teams typically have backup recipes in case the sun is hidden behind the clouds, and most of the teams did this year. A few teams weren't able to present anything to the tasting judges, but that didn't stop them from discussing with the judges what they had planned and had tested prior to the event. "I give them credit for having the determination and creativity to follow through the process and not throw in the towel," said Cheryl Thorn, Solar Energy Cook-off team leader.
Solar Energy Cook-off teams use digital or infrared thermometers to help ensure food is safe for tasting. Solar Express from Milwee Middle School, who earned second place in Culinary and Best Design, still managed to cook thin strips of steak for their steak fajitas. How'd they do that? "A good solar cooker design can make all the difference," added Schleith. Solar cooking can be fun and Izaac Gonzalez from Milwee Middle School's Solar Express adds, "My favorite part about this competition is that I get to eat the leftovers." The instructors were pretty excited about EnergyWhiz too. "It's gratifying to see the students perform well in front of the judges, being able to translate what they've learned in class into a real-world situation," said Carol Unterreiner, Milwee Middle School instructor. "And then to a get a thank you from a student who felt he was able to adequately answer the judges questions about what he had learned, makes it all worthwhile," added John Kallin, partner instructor. Solar cooking teams are judged in the categories of Culinary, Best Design, Wow!, and Fresh From Florida, which incorporates Florida-grown ingredients.
Please follow and like us: