By Sherri Shields
August 3, 2016
EcoStruction is a series of workshops offered by the University of Central Florida's Florida Solar Energy Center (FSEC) that provides the first steps toward a sustainable career path in clean energy, sustainability or the environment.
Sponsored by CareerSource Brevard as part of the Clean Energy Jobs Accelerator Grant, participants of the pilot training program on August 1 – 5 were able to choose from five different courses:
Introduction to Construction Jobs & Energy Efficient Housing
Introduction to Sustainability
Introduction to Building Efficiency Performance
Introduction to Photovoltaic Systems Technician
Introduction to Photovoltaic Sales and Marketing
In addition to their chosen workshop, participants received Sustaining Service training by UCF's Rosen College of Hospitality to develop customer service and soft skills that are in high demand by Brevard employers.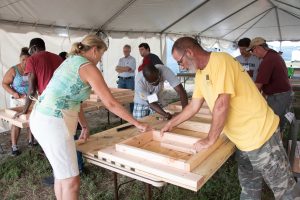 "Combining Sustaining Service with specific occupational skills, and a layer of clean energy training, elevates these participants' chances of securing employment," said Valerie Carothers, CareerSource Brevard business liaison to the clean energy industry.
"Thanks to our training partners, Central Florida Clean Cities Coalition, the UF/IFAS Extension Service in Brevard County, and UCF Continuing Education, we were able to offer a variety of clean energy topics, and so far the feedback has been fantastic," said Colleen Kettles, program director for business and workforce development at FSEC.
"I started this class knowing nothing, and even had a hard time pronouncing photovoltaics, but now I feel like an expert," said Joussette Calvo, a participant in the Introduction to Photovoltaic Sales and Marketing workshop.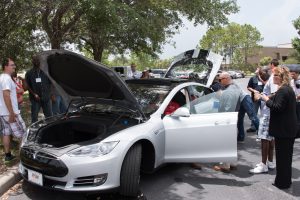 Students also had the opportunity to see a Tesla electric car and hear from guest speaker, Larry Hufford, founder of homebuilder LifeStyle Homes, about how homes, photovoltaic systems and electric cars are integrating. "The LifeStyle solar-powered home generates its own electricity from sunshine. The Tesla then uses this sunshine-generated electricity to get its battery charge. This means that the Tesla essentially runs on sunshine!"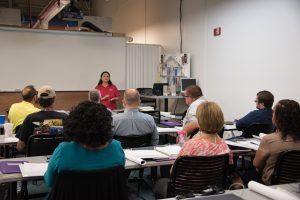 Although the EcoStruction workshops are only offered as part of this pilot training series, FSEC offers other courses that support clean energy career development. Visit http://ce.fsec.ucf.edu/ for a full course listing.
For additional training information, please contact Colleen Kettles, ckettles@fsec.ucf.edu.
PR16-04