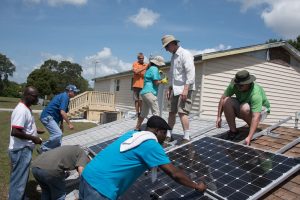 The Florida Solar Energy Center® (FSEC®) is offering its five-day course covering the design and installation of photovoltaic (PV) systems January 22-26, 2018, in Cocoa, Florida. This course is intended for technicians, electricians, engineers and other practitioners in the solar, construction, and electric utility sectors. The overall goal is to develop "system-knowledgeable" professionals to help ensure the safety and quality of PV system installations.
Hands-on – The course format includes a balance of classroom instruction and actual hands-on work with PV systems and equipment.'s
Student-interactive – Demonstration and lab exercises simulate the process of designing, installing and commissioning of residential and small commercial grid-connected PV systems.
State-of-the-Art – Emphasis is placed on code compliance and accepted state-of-the-art industry design and installation practice.
The course fee is $995 and registration can be completed online at the FSEC website: https://secure.fsec.ucf.edu/fsecstore/do/product/InstallPV. Each participant receives a copy of the textbook Photovoltaic Systems by Jim Dunlop as well as all instructional materials. Participants successfully completing the course will be awarded a certificate of completion from FSEC and will be eligible to take the North American Board of Certified Practitioners (NABCEP) Photovoltaic Associate Program examination (see below). This course is approved by the Florida Construction and Electrical Licensing Boards for 18 continuing education credits.
FSEC is an approved provider of the PV training that is a prerequisite for the NABCEP Photovoltaic Associate Program examination. Students may register for the Computer Based Test (CBT) after completing the FSEC Installing Photovoltaic Systems workshop. The examination fee is $150. Interested participants will be able to sign up for this exam within two years of completing the workshop. For further information on the NABCEP PV Associate Program, please visit http://www.nabcep.org/associate. FSEC has also achieved the Interstate Renewable Energy Council (IREC) Continuing Education Provider Accreditation for the FSEC Installing Photovoltaic Systems course.
For questions or more information, please contact Colleen Kettles at 321-638-1004 or ckettles@fsec.ucf.edu.