By Sherri Shields
COCOA, May 17, 2013 – Students, teachers and the community of Haines City will reap multiple benefits from the new 10,000-watt photovoltaic (PV) system at Haines City High School. The PV system with battery backup will provide emergency power during an outage, reduce daily electricity costs to the school, and serve as a learning resource.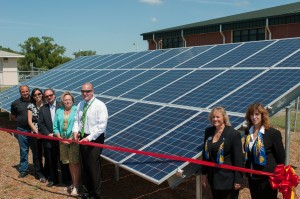 The Florida Solar Energy Center (FSEC), a research institute of the University of Central Florida (UCF), held a dedication ceremony and solar workshop for teachers to celebrate the installation of the 42-panel PV system at Haines City High School on Wednesday, May 15th. Coordinated by UCF's Florida Solar Energy Center, the system, valued at $85,000, is the 85th PV system installed through the SunSmart Schools Emergency Shelter Program.
In conjunction with the dedication, a professional development workshop gave teachers from Haines City High School, Poinciana Academy of Fine Arts in Osceola County, Bloomingdale High School in Hillsborough County and Montessori World School in Orange County an opportunity to experience hands-on solar activities, showcasing the FSEC curriculum and a companion renewable energy kit. More than 250 teachers have participated in similar workshops, impacting more than 50,000 students statewide.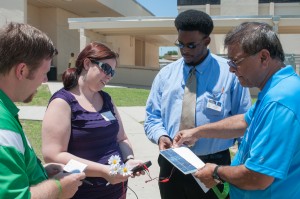 Not only does the PV system reduce electricity costs by up to $1,500 a year and serve as a generator when a power outage occurs, the system also reports performance data to FSEC; the data will be available on energywhiz.com in June. This site will allow students and teachers to analyze PV system performance data to better understand how the technology works. "We hope we never have to use the system as a generator, and we're excited about the hand-on learning application for our students and teachers. Being able to see the real-time data that our system produces will be a tremendous resource," said Stephen Scheloske, assistant principal at Haines City High School. Read more