COCOA, Fla., June 30, 2017—The University of Central Florida's Florida Solar Energy Center® has earned an ENERGY STAR® Certified Homes Market Leader Award in recognition of its continued commitment to providing our nation's homebuyers with ENERGY STAR® certified homes.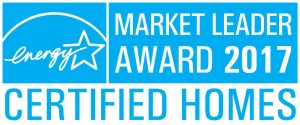 Each year, the U.S. Environmental Protection Agency's (EPA) ENERGY STAR® Certified Homes program presents Market Leader Awards to outstanding partners who have made important contributions to energy–efficient construction and environmental protection by building or verifying an outstanding number of ENERGY STAR® certified homes. As a rating provider, Florida Solar Energy Center® (FSEC®) contributed 2,905 ENERGY STAR® certified homes in 2016, which is equivalent to reducing CO2 emissions by 4,915 metric tons.
"FSEC is pleased to be recognized for this award on behalf of the energy raters who worked with builders to achieve ENERGY STAR-labeled homes and registered their ratings through our software services," says Robin Vieira, director of Buildings Research at FSEC.
The expert team of FSEC trainers and reviewers, working with energy raters, are an integral part of FSEC's success as an ENERGY STAR® provider. In addition, FSEC's innovative EnergyGauge software "automatically computes the necessary ENERGY STAR calculation to make determining the energy efficiency level of compliance easy," explains Vieira.
The partnership between FSEC and ENERGY STAR® has been a lasting one. "FSEC helped EPA launch the ENERGY STAR® for Homes program in 1995 and will continue to work to research energy-efficient methods and to educate the building industry on best practices," added Vieira.
The ENERGY STAR® program helps businesses and individuals save money and protect the environment through superior energy efficiency standards.
Learn more about ENERGY STAR at https://www.energystar.gov/about.
Review the full list of ENERGY STAR award winners at https://www.energystar.gov/about/2017_energy_star_certified_homes_market_leader_award_winners.
###
PR17-05
Please follow and like us: