September 14, 2016
By Barb Abney
A University of Central Florida-led team will receive $1.1 million to develop new manufacturing processes using a specialized tool that will bring the U.S. a step closer to achieving its goal of affordable photovoltaic (solar) energy.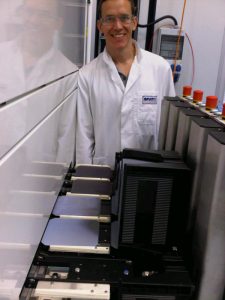 The project, led by Kris Davis, a research engineer at UCF's Florida Solar Energy Center, will largely take place at the university's International Consortium for Advanced Manufacturing Research in Osceola County where the tool will be among the first to be installed when the building opens in spring 2017.
Making the research manufacturable was critical to getting the federal funding and having the state-of-the-art facility in Osceola County where process engineers will be on staff to manage the equipment was also imperative, Davis said.
"This is the future," he said of the process his team will use to ultimately produce thousands of solar cells an hour in and without the costly and cumbersome vacuum-based deposition processes typically used to convert silicon wafers into solar cells. Read more