COCOA, Jan. 14, 2011 – Recognizing the need for statewide energy efficiency, UCF's Florida Solar Energy Center celebrates the completion of its newest research facility for testing energy improvements in new and existing homes. A ribbon-cutting ceremony for this endeavor was held today on UCF's Cocoa campus.
Initial research at the Flexible Residential Test Facility will focus on energy improvement potentials in vintage Florida homes. Those constructed prior to 1975 make up 63 percent of Florida's more than eight million existing homes, which represents a substantial energy and cost savings potential for cost-effective, "deep" home energy improvements, or retrofits. Prospective savings could result in 30 to 50 percent of current residential energy use.
Funded by the state's Florida Energy Systems Consortium, the research facility was instrumental in attracting a major multi-million dollar, four-year research grant from the U.S. Department of Energy (DOE).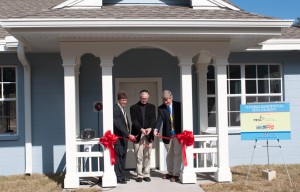 "As we address greenhouse gas emissions, we have to look at retrofitting existing homes. This facility will be instrumental in researching the impacts of home energy efficiency improvements in hot climates," said Mr. David Lee, U.S. Department of Energy's Director of Residential Building Programs.