The Florida Solar Energy Center (FSEC) hosted an alternative fuels workshop on October 3, 2008, as part of the National Alternative Fuel Vehicle (AFV) Odyssey Day.
The National AFV Odyssey Day is a nationwide event that was held in 90 different locations throughout the U.S. this year. Coordinated by the National Alternative Fuel Vehicle Training Consortium (NAFTC) in a partnership with the U.S. Department of Energy's National Clean Cities Program, the goal of this national program is to promote the awareness and use of AFVs, as well as promote energy conservation and independence for the U.S.
The Space Coast Clean Cities Coalition, a Florida chapter of the (DOE) Clean Cities Program, coordinated and organized the Advancing the Choice alternative fuel workshop, locally, as part of this national event.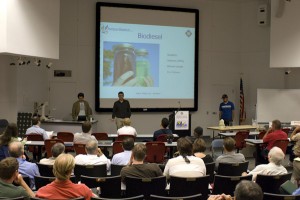 More than 75 students, educators, government officials and fleet managers were on hand to receive valuable tips on biodiesel production, learn about the benefits of alternative fuels, and view the several hybrid-electric and General Motors ethanol vehicles that were on display. After an introduction by Bill Young, a senior solar energy research engineer at FSEC and host of the event, the day began with a biodiesel production demonstration by Amber Station.
A number of real-world success stories were presented throughout the day from a variety of different organizations. John Parker, from Orange County Government discussed the use of biodiesel within their fleet of diesel vehicles, and the success using alternative fuels has brought them in meeting the county's clean air goals.
David Winslow, the senior director of engineering and environmental sustainability technical services for Universal Studios, pointed out the use of biodiesel fuel in every diesel vehicle throughout the theme park. This includes the resort water taxis and the 50-plus ground-based vehicles already running on the B20 blend – 20 percent biodiesel and 80 percent diesel fuel – as well as the engines used to run the theme park ride, Jaws.
The overalll public health benefits of using alternative fuels was presented at The American Lung Association's exhibit.
About National Alternative Fuels Training Consortium
The National Alternative Fuels Training Consortium (NAFTC) is a national leader in promoting programs and activities that will lead to energy independence and the greater use of cleaner transportation in the U.S. The NAFTC is the only nationwide alternative fuel vehicle (AFV) and advanced technology vehicle training organization in the nation. Their mission is to provide the training infrastructure for implementing widespread use of alternative fuels, AFVs and advanced technology vehicles to increase our nation's energy security and improve our air quality by reducing greenhouse gas emissions from our transportation system.