By Sherri Shields
April 25, 2017
COCOA, FL–Elementary, middle and high school students—from Florida's Panhandle to the Keys—will show off their solar cars, cookers and inventions during EnergyWhiz on Saturday, May 13th.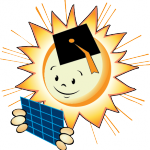 EnergyWhiz is a day-long event that showcases sustainable and renewable energy-focused products with real-world purpose that are designed, built and demonstrated by teams of students. Each project category requires students to share what they have learned with their peers, the public and industry professionals who also serve as project evaluators. Creative thinking, scientific know-how and effective communication skills all come into play at EnergyWhiz.
The 15th annual event is held from 10 a.m. to 2 p.m. on the Cocoa campus of the University of Central Florida (UCF) and Eastern Florida State College, at UCF's Florida Solar Energy Center (FSEC), 1679 Clearlake Road. The event is free and open to the public.
DJ Chill Will—the world's first solar-powered DJ and also a full-time, middle school environmental science teacher—will be emceeing the event in the morning. He will also be demonstrating photovoltaic equipment components and functions, teaching
scientific concepts behind photovoltaic technology, and educating on the applicability of using renewable energy to reduce environmental impacts. Food trucks and a showcase of electric vehicles will also be at EnergyWhiz.
Competitions will include: Junior Solar Sprint, Energy Innovations, Solar Energy Cook-off, and the Electrathon.
This year's EnergyWhiz sponsors include: Florida Power & Light Company, Duke Energy, Publix Super Market Charities,  Airport Chrysler Dodge Jeep Ram, American Muscle Car Museum, LifeStyle Homes, Solar-Ray, Inc., and Smart Electric Power Alliance.
"The success of EnergyWhiz is in large part due to our volunteers and sponsors," said Susan Schleith, K-12 Education Director at FSEC. "Whether you can spare a couple of hours or the whole day, you can help make EnergyWhiz a continued success." Volunteers and sponsors can sign-up at: http://www.fsec.ucf.edu/go/energywhiz.
For more information about EnergyWhiz, visit http://www.fsec.ucf.edu/go/energywhiz, watch a video about the EnergyWhiz at http://vimeo.com/9522310, or contact Susan Schleith, K-12 Education Director, at susan@fsec.ucf.edu or Sherri Shields, Communications Director, at sherri@fsec.ucf.edu.
###
PR17-02