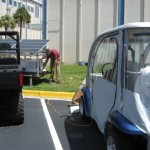 The Florida Solar Energy Center (FSEC) recently lent its photovoltaic (PV) generator trailer to Kennedy Space Center (KSC) to power a Low Speed Electric Vehicle (LSEV) charging station on site. The fleet coordinator, Bruce Chesson, wanted to take energy efficiency and conservation at KSC one step further by adding a solar-powered charging station to the two existing stations, both already powered by electricity from the utility grid.
FSEC's PV trailer is typically used to provide power for emergency operations during disaster relief, but KSC fleet officials wanted to determine if the LSEVs could be effectively powered by the 440-watt trailer system. These LSEVs support shuttle processing operations, launch pad modifications and everyday support requirements. FSECs stand-alone trailer PV system successfully charged each of the six LSEVs in the fleet, one at a time.
Although KSC already uses PV technology to power several systems around the site, it has never been used to support electric vehicle transportation. KSC would like to partner with local energy providers to construct similar charging stations around the  Space Center.