Subrato Chandra, Ph.D., retired project manager for the Building America Industrialized Housing Partnership (BAIHP) and one of the pioneers of the building research division of the Florida Solar Energy Center, died Jan. 12 following complications from surgery.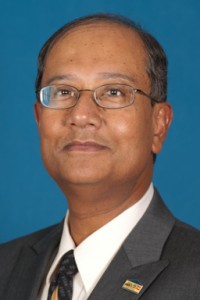 Subrato, who worked for FSEC for 34 years before retiring in 2010, was passionate about integrating energy efficiency into home design and, long before most people had ever heard the term photovoltaics, helped develop the concept of a PV powered house in Cape Canaveral in 1979.
One of his proudest achievements was highlighted in an email he recently sent a colleague in which several FSEC initiatives were touched upon in a listing of the most transformative homebuilding trends in the last 75 years.
Subrato's compassion can be seen in the types of projects he championed:   As director of FSEC's research and development division in 1995 he helped the Environmental Protection Agency launch the Energy Star Homes project that has become the most widely accepted energy-efficient green homes projects in the country.  The Building America project he led still works directly with Habitat for Humanity home builders throughout the country to help make housing more affordable for needy families and helps make manufactured or HUD-code homes more efficient.
Subrato led FSEC's first major funded project in the buildings area with a $400,000 contract on passive cooling by natural ventilation received in 1981 from the Department of Energy.  During his career at UCF he was involved in $14 million of funded projects. In addition to his work at FSEC, Subrato served as a faculty member in the Department of Civil, Environmental and Construction Engineering in the College of Engineering and Computer Science.
Subrato was able to succeed because he always championed the personal relationship over the pure technical work. He communicated equally well with a housing subcontractor and a renowned scientist. And in so doing he was able to have a number of happy employees and help funding agencies achieve their goals. His loss will be felt nationwide in the building research community.
"He was a great teacher, a respected scientist, and a classy gentleman, " said Craig V. Muccio, a colleague from Florida Power and Light who first met Subrato in a solar engineering class Subrato was teaching in 1980.
Most recently Subrato was working with the Pacific Northwest National Laboratory as a senior buildings engineer.
Subrato's wife Mitra works in the Office of Research & Commercialization and he has two grown children.