Every so often, we get a call or email asking about the use of solar energy in Florida and whether the state has too many cloudy days and hazy sky conditions to support solar energy applications.  Many people say they have heard that solar energy applications only work well in the clear skies of the desert southwest and just won't be as effective in Florida's weather conditions.
While it is true that the desert southwest has the largest solar resource in the continental U.S., this does not mean that Florida has a poor resource.  Consider the following map that compares the solar resource for 2-kilowatt photovoltaic residential applications across the entire U.S.: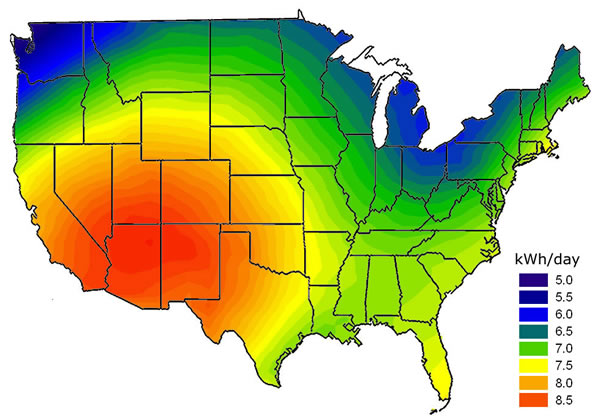 This image comes from a study the Florida Solar Energy Center conducted on the performance of 2-kW photovoltaic (PV) systems installed on highly efficient homes across the country. The results capture all aspects of PV system performance, including the temperature effect on cell performance as well as the efficiency of the conversion from DC to AC power through the inverter. The map clearly shows that the desert southwest has the largest solar resource in the continental U.S., but Florida is not very far behind with 85% of the maximum PV resource of any location in the country (7.2 kWh/day out of a maximum of 8.5 kWh/day). Consumers should note that many parts of the country that have more state financial incentives have a much poorer solar resource, making Florida a very cost-effective location for using solar energy.  You can view the complete study at:   www.fsec.ucf.edu/en/publications/html/FSEC-PF-380-04/.
There is Also Money Waiting for You in Florida!
There are also substantial federal income tax credits (30% of the cost of a solar hot water system) and State of Florida rebates ($500 for a system) for the installation of solar systems in Florida.  In addition, one Florida utility, Progress Energy Florida (PEF), recently implemented a new program that offers additional utility incentives of $450 for the installation of solar water heating systems.  These combine to offer a considerable buy-down for a solar water heating system.
If you are interested in photovoltaics, there is a federal income tax credit of up to $2,000 plus a State of Florida rebate of up to $20,000 for home applications and up to $100,000 for commercial applications.
Additional information on these solar energy tax credit, state rebate and utility incentive programs can be found by clicking on the following links:
Florida citizens express their opinion on solar energy for Florida: