NYC Mayor Bloomberg Visits FSEC
The Florida Solar Energy Center (FSEC) welcomed the Mayor of the City of New York, Michael Bloomberg, and First Deputy Mayor Patricia Harris for a tour of the facility on Friday, June 20, 2008. Mayor Bloomberg expressed an interest in learning about FSEC's role in the research and development of large-scale photovoltaic (PV) systems and hydrogen fuel cells, as well as recent breakthroughs related to "green," energy-efficient building practices.
The mayors' tour took them through some of FSEC's laboratories, including the Manufactured Housing Lab, FSEC's 1,600 square-foot manufactured home that serves as a training center and building science laboratory. They also stopped at the PV testing lab and the thin film PV lab, where researchers are developing the next generation of high-efficiency PV cells, as well as the hydrogen and fuel cell lab.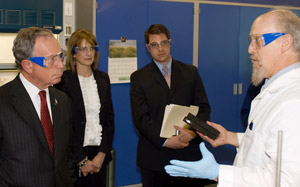 Mayor of the City of New York, Michael Bloomberg (left), First Deputy Mayor, Patricia Harris, and Director of Advanced Operations, Michael Hopper, listen as FSEC Senior Research Scientist, Clovis Linkous, explains how a fuel cell works and points out the challenges this technology faces as an alternative fuel for transportation.Photo: Nicholas Waters
As the mayors walked through the PV testing areas, they learned about FSEC's testing techniques and requirements. A PV roof-top system, used during FSEC's PV installer courses, was used to demonstrate how a properly installed PV system operates and show how students in the installer course verify a system has been installed correctly. In the thin film PV lab, researchers spoke with the mayors about the different types of PV cells and the work being performed at FSEC to increase the efficiency of thin film PV cells while lowering their price. In the hydrogen labs, researchers explained the physics behind hydrogen fuel cells and demonstrated FSEC's patented hydrogen-detection sensor, Smart Paint.
Mayor Bloomberg is the 108th Mayor of the City of New York. Elected to office only two months after the 9/11 attacks in 2001, he helped the city to rebound faster and stronger than anyone expected. He has recently undertaken a campaign to fight global warming while preparing New York for an estimated million more residents by 2030, through the efficient use of land, water and energy.