The second annual Serve to Preserve Summit on Global Climate Change, hosted by Florida Governor Charlie Crist on June 25-26, 2008, continued to promote Florida's excellence as a growing leader in alternative fuels and conserving the state's natural environment. The summit also focused on the need to pursue alternative fuels and renewable energy as a means for economic benefits through a variety of "green" technologies.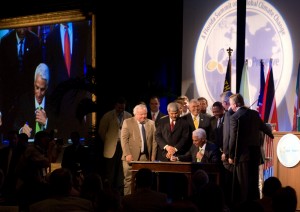 This year's conference included several panel discussions, covering topics such as "How Green Technology Fuels Economies Both Large and Small," "Going Green Makes Economic Sense" and "Return on Investment: From Universities to the Universe," for which M.J. Soileau, Vice President for Research at the University of Central Florida's (UCF) Office of Research and Commercialization, served as a panelist. Representatives from UCF's Florida Solar Energy Center were also present at the event to participate in the business expo, along with four other major Florida universities.
Demonstrating his commitment to Florida's "green" leadership, Crist signed House Bill 7135, which places Florida at the front of the effort to reduce U.S. dependence on foreign oil and move toward domestic energy production. This bill lays the groundwork for cap and trade programs regulating greenhouse gas emissions in the state, as well as Florida's "10 by 10" Renewable Fuel Standard, which requires all gasoline sold for motor vehicles in Florida contain 10 percent ethanol by 2010. It also calls for higher efficiency standards from the Florida Building Commission and for government buildings.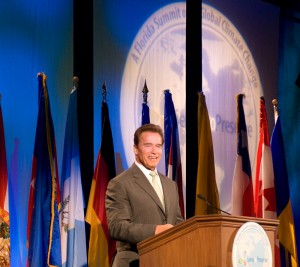 Crist made several other announcements during the conference, including plans to negotiate the purchase of 187,000 acres of land from the U.S. Sugar Corporation that will link Lake Okeechobee to the Everglades and enhance the restoration efforts that are already in place.
During the closing ceremonies, Crist also signed a new public-private partnership that positioned Florida as one of the first states to join the Alliance for Sustainable Air Transportation, which places a premium on energy conservation and air travel safety. Along with these announcements and the signing of Florida's 2008 Energy Bill, Crist reminded guests that the Executive Orders placed at last year's event to put Florida on the path to renewable energy and conservation leadership, now fully extended into Florida's law.
Deeming this year's event "a great success," Governor Crist has shown how dedicated he is to enhancing Florida's role in the current alternative energy movement. With great strides being made for conservation and alternative energy in the state, Floridians can look forward to the results of next year's Climate Change Conference.