Like most industries throughout the world, the resort industry is seeing a growing trend in the use of renewable energy and "green" practices. More and more hotels in tourist destinations across the globe are trying to be good stewards to their visitors, as well as to the environment, by utilizing renewable energy applications for powering their facilities, rather than passing off the current high energy costs to customers through higher rates. Seeing the industry take such positive strides is what inspired researchers at the Florida Solar Energy Center (FSEC) to develop a program to promote eco-tourism in the Caribbean, one of the most popular tourist destinations, and around the world.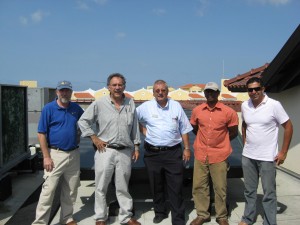 As part of FSEC's new eco-tourism initiative, three of the center's solar energy experts traveled to the island country of Aruba in March to conduct workshops for the Aruba Hotel and Tourism Association (AHATA). AHATA members were interested in learning about using renewable energy technologies to reduce energy consumption and costs at Aruba's local resorts. FSEC researchers John Harrison, Patrick Robinson and Bill Young provided support to the association by conducting customized educational courses and making recommendations for implementation of solar energy technologies throughout Aruba's resort industry.
"They reached out to us [FSEC] for solar education just as we were putting our feelers out and seeing where we could springboard this initiative," said Young.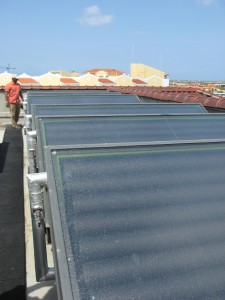 Like many Caribbean countries, Aruba lacks conventional energy resources, creating a dependency on imported oil to power the island's single utility. The island country has great solar and wind energy resources available, but less than a dozen renewable energy applications are being used throughout the island due to government restrictions on the utility, which limit the interconnection of solar systems to the grid. Combined with the country's imported oil dependency, these restrictions have not helped offset the country's skyrocketing electricity prices, which have reached 32 cents per kilowatt and higher.
Harrison, Robinson and Young spent three days conducting workshops and evaluating the solar and wind systems currently in use at some of the AHATA's facilities. Partnering with AHATA, FSEC developed an educational program that provided technical training and consulting for solar thermal and photovoltaic (PV) technologies. By modifying some of FSEC's existing solar energy training courses, the researchers were able to provide the specific education and training required for Aruba's resort industry professionals to understand the design, operation, installation and maintenance of solar systems.
The main purpose of their visit was to create awareness and understanding among AHATA members regarding the importance of making educated decisions when integrating solar energy into facilities. With more than 30 attendees at each solar thermal and PV workshop, the trip was a success.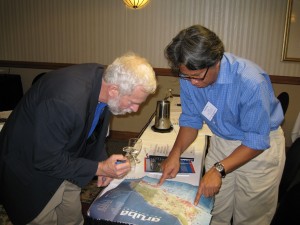 Harrison, Robinson and Young recommended the development of a plan between the government, utility and consumers that would reduce or eliminate the current restrictions that are keeping Aruba's renewable energy resources untapped. Working together with local colleges on the island could also provide a source of education for potential solar and wind technicians, code officials and sales personnel on the island, enabling renewable industry growth. With this potential growth would come the need to develop standards and practices to assure high quality solar energy technology implementation.
FSEC's researchers plan to expand this eco-tourism program by continuing to work with AHATA and the Caribbean Solar Energy Society, as well as participating in the upcoming International Ecotourism and Sustainable Tourism Conference in October.
"Renewable energy is tomorrow's power source," said Young. "To see an entire industry become so focused on environmental stewardship and using renewable energy is really a sign of good things to come. We hope more industries will see this change and follow suit."
Please follow and like us: