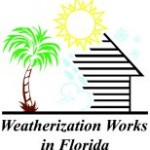 With assistance from the Florida American Recovery and Reinvestment Act, the Florida Department of Community Affairs' Weatherization Assistance Program is offering grants to qualifying low-income households for energy-efficient home improvements.
Preference is given to owner-occupied homes, elderly (60 years-plus) or physically disabled residents, families with children under 12 and households with a high-energy bills.
Contact your local Weatherization Assistance Program office to see if you qualify or visit www.FloridaCommunityDevelopment.org/WAP for more information about the program.
Please follow and like us: