It's no surprise that in today's ailing market, new home sales are down. What is surprising is that construction is on the rise for six Florida homebuilders.
In partnership with one of the U.S. Department of Energy's Building America teams, led by the University of Central Florida's Florida Solar Energy Center (FSEC), these successful homebuilders are building super energy-efficient homes. They are achieving a standard met by fewer than one of every 1,000 new homes built in Florida since 2007.
Homes consume about 35 percent of the electricity produced in the United States. Homes are also responsible for more than 20 percent of the U.S. emissions of carbon dioxide, a significant contributor to global warming. Building America's goal is to develop cost-effective solutions that reduce the average energy use of housing by 40 to 100 percent.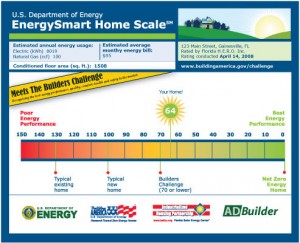 Similar to an automobile's miles-per-gallon sticker, energy-efficient homes can have an energy-efficiency rating called the EnergySmart Home ScaleSM (E-Scale), which is based on the nationwide Home Energy Rating System's HERS Index. A home with an E-Scale of zero generates as much energy as it consumes on an annual basis. While most existing homes have an E-Scale of 130 or higher, typical new homes in Florida have an E-Scale of about 90.

The six Building America homebuilders are constructing all of their homes – a total of about 100 a year – at an E-Scale of 60 or lower. Each home is also an ENERGY STAR-qualified new home.
Five of the six participating homebuilders are based in Gainesville: G.W. Robinson Builders Inc., Tommy Williams Homes, Skobel Development, Schackow Realty and Development (Innovative Home Builders of North Florida Inc.), and H.K.W. Enterprises Inc. The sixth, LifeStyle Homes of Melbourne, builds along Florida's Space Coast in Brevard County. Each home is individually certified by Florida Home Energy and Resources Organization (Florida H.E.R.O.), an FSEC subcontractor based in Gainesville or by FSEC.
Ken Fonorow, president of Florida H.E.R.O., is largely responsible for the concentration of participating builders in Gainesville.
"Rethinking how homes are constructed makes good sense," he says. "My goal is to work with developers, builders and homeowners to improve the efficiency, health and durability of homes in the Gainesville area. I hope that others in Florida will see the tremendous value of these homes and want to do the same."
It doesn't cost a lot more to build a more energy-efficient home, particularly when the improvements are financed as part of a mortgage. The improvements produce immediate savings in utility bills, in addition to improved air quality and durability.
"The future of new home construction is energy-efficient, high-quality housing," said Subrato Chandra, FSEC's Building America program director. "The success of these builders encourages me."
In addition to FSEC's six Building America partners, 60 other builders in Florida and 417 nationwide have risen to this challenge.
Building America forms research partnerships with all facets of the residential building industry to improve the quality and energy efficiency of homes. The Florida Solar Energy Center, a research institute of the University of Central Florida, is the only university-led Building America team. FSEC researches technologies for highly energy-efficient homes, and also works with builders to help them design, build and sell highly energy-efficient homes.
Researchers and builders work together to select cost-effective improvements. All of the homes have a highly efficient building envelope (better insulation levels, double pane low-e windows and radiant barriers), efficient and well-engineered heating and cooling systems with tight duct systems and controlled outside air ventilation, very efficient water heating systems and compact fluorescent lighting. ENERGY STAR appliances round out the package in many cases.
"Being a part of the Builders Challenge with our new line of Sun Smart homes is our way of doing the right thing for America's energy future," said Lifestyle Homes' Larry Hufford. "I underestimated how many people felt the same way."
For more information, visit www.baihp.org and or www.buildingamerica.gov/challenge.
About FSEC
The Florida Solar Energy Center, a research institute of the University of Central Florida, is the largest and most active state-supported renewable energy and efficiency institute in the United States. Created by the Florida Legislature in 1975, FSEC's mission is to research energy technologies that enhance Florida's and the nation's economy and environment, and to educate the public, students and practitioners on the results of the research. Working in alternative fuels, hydrogen and fuel cells, photovoltaics, solar thermal technologies, high performance buildings, and education areas, FSEC's 140-member staff helps provide Florida with a future of energy independence and environmental sustainability. FSEC is also responsible for testing and certification of solar systems sold in the state of Florida. For more information about FSEC, please visit www.floridaenergycenter.org, or send your questions to info@fsec.ucf.edu.
G.W. Robinson Builders, Inc., Gainesville, FL – 352-373-1724, www.gwrobinson.com
H.K.W. Enterprises, Inc., Gainesville, FL – 352-377-2240
LifeStyle Homes, Melbourne, FL – 321-727-8188, www.buildingalifestyle.com
Schackow Realty and Development
(Innovative Home Builders of North Florida, Inc.) –
386-454-3174, innovativehomebuilders@gmail.com
Skobel Development, Gainesville, FL – 352-224-5545, www.skobel.com
Tommy Williams Homes, Gainesville, FL – 352-331-8180, www.tommywilliamshomes.com
Please follow and like us: