It's no surprise that in today's ailing market, new home sales are down. What is surprising is that construction is on the rise for six Florida homebuilders.
In partnership with one of the U.S. Department of Energy's Building America teams, led by the University of Central Florida's Florida Solar Energy Center (FSEC), these successful homebuilders are building super energy-efficient homes. They are achieving a standard met by fewer than one of every 1,000 new homes built in Florida since 2007.
Homes consume about 35 percent of the electricity produced in the United States. Homes are also responsible for more than 20 percent of the U.S. emissions of carbon dioxide, a significant contributor to global warming. Building America's goal is to develop cost-effective solutions that reduce the average energy use of housing by 40 to 100 percent.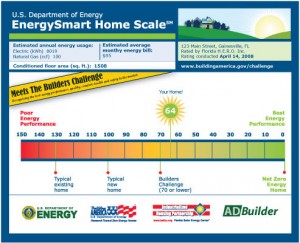 Similar to an automobile's miles-per-gallon sticker, energy-efficient homes can have an energy-efficiency rating called the EnergySmart Home ScaleSM (E-Scale), which is based on the nationwide Home Energy Rating System's HERS Index. A home with an E-Scale of zero generates as much energy as it consumes on an annual basis. While most existing homes have an E-Scale of 130 or higher, typical new homes in Florida have an E-Scale of about 90.
Read more