Just as President Barack Obama steps up his campaign for energy efficiency, the Florida Solar Energy Center (FSEC) celebrated the opening of its new Hot Water Systems Laboratory in Cocoa.
Water heating is the second largest home consumer of energy, and the performance of some systems on the market today have never been tested under realistic and extreme weather conditions. Testing in the lab will help provide answers the solar industry, utilities and home builders are looking for to increase energy efficiency.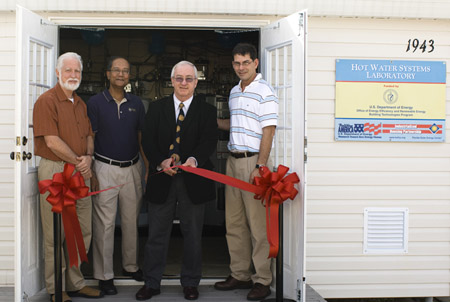 "This project is an important part of Building America's goal of zero energy buildings by year 2020," said Robert Hassett, the U.S. Department of Energy's Solar Heating and Cooling Technology Manager. The U.S. Department of Energy's Building America Program funded the lab at FSEC, a research institute of the University of Central Florida.
The facility, which opened on Wednesday, will be a hub to test solar, tankless and conventional domestic water heating systems for efficiency.
"Solar water heating is an excellent way to save energy on water heating and reduce whole-house energy use, but utilities are specifically interested in knowing whether or not solar is providing relief to the power grid during peak times. Our testing will answer their questions," says Subrato Chandra, the Building America Industrialized Housing Partnership project manager. This information is key to utility "buy-in" to more aggressively sponsor solar water heating systems.
This side-by-side testing will evaluate the impact of systems on the utility power grid according to time-of-day usage, and will also enhance and validate simulation models for solar water heating systems. Danny Parker, principal investigator noted, "Solar integrated collector and storage (ICS) systems, where the storage tank is on the roof and sensitive to weather, have never been verified before, only simulated, so we're interested in seeing how they work particularly on winter mornings."
Seven systems are currently responding to the same conditions and schedule of use to compare their energy performance and time-of-day electric loads. Over 90 channels of data are being collected. This flexible facility will evaluate how the water heating systems perform without the influence of family usage habits.
"Our tests are performed under more realistic, yet controlled conditions. We're using real inlet water temperatures and varying the quantity of water being used, something that hasn't been done before," says Carlos Colon, task leader of the project.
The seven systems currently being tested are:
1.  Standard 50-gallon electric water heater
2.  40 sq. ft. collector/80-gallon tank flat plate direct solar water heating system with a differential-controller
3.  32 sq. ft. collector/40 gallon integrated collector storage (ICS) system with a standard 50 gallon electric tank for backup
4.  40 sq. ft. collector/80 gallon tank flat plate PV-pumped direct solar water heating system
5. 40 gallon conventional natural gas water heater
6. Tankless natural gas water heater
7. Tankless electric water heater
Current tests will run for a full year under its current configuration with the option of testing additional systems.
The Florida Solar Energy Center, a research institute of the University of Central Florida, is the largest and most active state-supported energy research institute in the country. Current divisions and their research activities include Advanced Energy Research: alternative transportation systems, hydrogen fuel and fuel cells; Buildings Research: energy-efficient buildings; and Solar Energy: solar water and pool heating and solar electric and distributed generation systems. For more information about the center, visit www.floridaenergycenter.org or call the FSEC Public Affairs Office at 321-638-1015.