Middle School Science Bowl student teams show their intellect under pressure and flex their problem-solving muscle – they solve math and science problems and demonstrate hands-on, engineering skills as they design and build model hydrogen fuel cell cars.
Sponsored by the U.S. Department of Energy's Office of Science, the science bowl encourages middle school students to excel in mathematics, science and engineering. It improves awareness of alternative fuel technologies and it provides an avenue of enrichment and reward for academic science achievement.
The Florida Solar Energy Center Middle School Science Bowl is one of 36 qualifying competitions for the National Science Bowl and the only one in the Southeast U.S. This year, sixteen middle school teams came to the Florida Solar Energy Center (FSEC), a research institute of the University of Central Florida, in Cocoa on March 7 to compete. This is the seventh year FSEC has hosted the event and the second year it's been sponsored by Bright House Networks.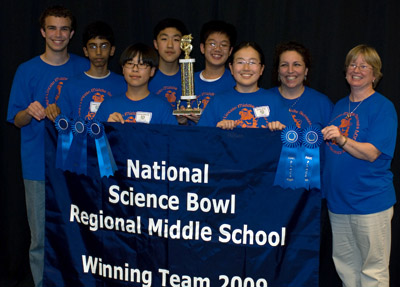 Lincoln Middle School from Gainesville won the academic portion of the program, a fast-paced question-and-answer competition. Archimedean Middle Conservatory from Miami finished second and Ronald McNair Middle School from Cocoa finished third.
"It was tough," said James Thieke, coach of Lincoln Middle School's 'Asian Invasion' team. "Our captain had pneumonia and we had a heartbreaking loss in the first game, however, through a series of close games, blowout and nail biters, we won. We're really happy."
Lincoln Middle School goes on to compete against 35 other regional winners on an all-expenses-paid trip to the National Science Bowl in Washington, D.C. from April 30 to May 4. The national competition includes both the academic event and a hydrogen fuel cell car race.
"We especially like the hands-on portion of the Science Bowl," said Susan Schleith, Education Coordinator at FSEC. "It's one thing to be smart, but it's another to be able to put that intellect into practical use, solving real problems."
The top eight teams of FSEC's Science Bowl received a starter hydrogen car kit and participated in a car-building workshop facilitated by FSEC. Teams include, Lincoln Middle School from Gainesville, Archimedean Middle Conservatory from Miami, Ronald McNair Magnet School from Cocoa, Howard Middle School from Ocala, Andrew Jackson Middle School from Titusville, Crystal Lake Middle School from Broward Pompano Beach, The Bolles School from Jacksonville and Edgewood Jr/Sr High School from Merritt Island. They will all return to FSEC on April 18 to demonstrate their cars' performance at the Sunsational EarthFest.
All the schools participating in this year's event include:
Andrew Jackson Middle – Titusville
Archimedean Middle Conservatory – Miami
Ascension Catholic School – Melbourne
The Bolles School – Jacksonville
Crystal Lake Middle – Pompano Beach
Edgewood Jr/Sr High – Merritt Island
Einstein Montessori School – Cocoa
Howard Middle – Ocala
Lake City Middle – LaBelle
Lincoln Middle – Gainesville
McLane Middle – Valrico
Odyssey Middle – Orlando
Ronald McNair Magnet – Rockledge
Space Coast Jr/Sr High – Cocoa
St. Charles Borromeo – Orlando
West Shore Jr/Sr High – Melbourne
For more information about the National Science Bowl, visit http://www.scied.science.doe.gov/nsb/default.htm
For information about Florida Solar Energy Center's Regional Science Bowl or the Sunsational EarthFest, contact Susan Schleith, FSEC Education Coordinator, 321-638-1017, Susan@fsec.ucf.edu.