By Sherri Shields
March 16, 2015
Florida is one of 50 regional science bowl competitions nationwide that yields the winning team that advances to the National Middle School Science Bowl. This year, 17 middle school teams came to the Florida Solar Energy Center (FSEC), a research institute of the University of Central Florida, in Cocoa on March 5 to flex their intellect muscle in a fast-paced question-and-answer competition.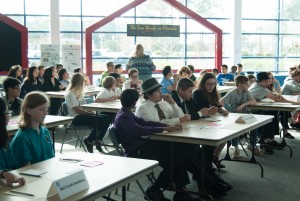 Sponsored by the U.S. Department of Energy's Office of Science, the science bowl encourages middle school students to excel in mathematics, science and engineering. It provides an avenue of enrichment and reward for academic science achievement
Eight Florida finalist teams worked through the double elimination rounds over the course of several hours. Those teams were: Abraham Lincoln Middle from Gainesville, Archimedean Middle Conservatory from Miami, Edgewood Jr/Sr. High from Merritt Island, Falcon Cove Middle from Weston, Forest Grove Middle from Ft. Pierce, Westglades Middle from Coral Springs, West Shore Jr./Sr. from Melbourne, and Westwood Middle from Gainesville.
Please follow and like us: