By Susan Schleith
Middle school science bowl teams from across Florida met at the Florida Solar Energy Center (FSEC), a research institute of the University of Central Florida (UCF), in Cocoa, Fla. on Saturday, March 4, 2017, to compete in a high stakes science competition. The Space Coast Science Education Alliance (SCSEA) Middle School Science Bowl is one of 50 competitions nationwide that yields a regional winning team that advances to the National Middle School Science Bowl competition.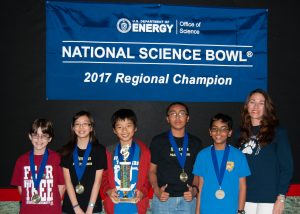 Twenty teams worked through numerous rounds of questions until eight Florida teams were remaining. The finalist teams then competed in double elimination rounds responding to questions in the following categories: General Science, Earth and Space, Life Science, Energy, Math, and Physical Science.
Those eight finalist teams included: two teams from Abraham Lincoln Middle from Gainesville, two teams from American Heritage School in Plantation, Central Middle from West Melbourne, DeLaura Middle from Satellite Beach, Falcon Cove from Weston, and Westglades Middle from Parkland.
American Heritage Team Black offered strong competition for the Lincoln Middle Team I. Ultimately, Lincoln Middle Team I's extensive knowledge, experience, and speed on the buzzer paid off with the win.
1st – Abraham Lincoln Middle School Team I, Gainesville
2nd – American Heritage Team Black, Plantation
3rd – Abraham Lincoln Middle School Team II, Gainesville
"The students were impressive, not only in their science and mathematics knowledge and skills, but also in how well they conducted themselves.  All were gracious, whether they won or lost.  It gives me great hope for the future!" said Jennifer Thompson, Secretary for the Space Coast Science Education Alliance.
Please follow and like us: