By Susan Schleith
Middle school science bowl teams from across Florida met at the Florida Solar Energy Center (FSEC), a research institute of the University of Central Florida (UCF), in Cocoa, Fla. on Saturday, March 4, 2017, to compete in a high stakes science competition. The Space Coast Science Education Alliance (SCSEA) Middle School Science Bowl is one of 50 competitions nationwide that yields a regional winning team that advances to the National Middle School Science Bowl competition.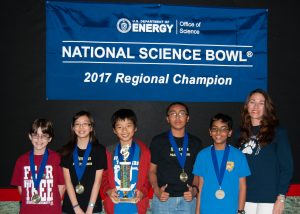 Twenty teams worked through numerous rounds of questions until eight Florida teams were remaining. The finalist teams then competed in double elimination rounds responding to questions in the following categories: General Science, Earth and Space, Life Science, Energy, Math, and Physical Science.
Those eight finalist teams included: two teams from Abraham Lincoln Middle from Gainesville, two teams from American Heritage School in Plantation, Central Middle from West Melbourne, DeLaura Middle from Satellite Beach, Falcon Cove from Weston, and Westglades Middle from Parkland.
American Heritage Team Black offered strong competition for the Lincoln Middle Team I. Ultimately, Lincoln Middle Team I's extensive knowledge, experience, and speed on the buzzer paid off with the win.
1st – Abraham Lincoln Middle School Team I, Gainesville
2nd – American Heritage Team Black, Plantation
3rd – Abraham Lincoln Middle School Team II, Gainesville
"The students were impressive, not only in their science and mathematics knowledge and skills, but also in how well they conducted themselves.  All were gracious, whether they won or lost.  It gives me great hope for the future!" said Jennifer Thompson, Secretary for the Space Coast Science Education Alliance.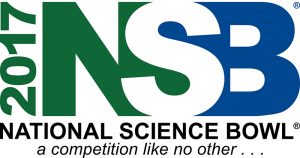 The National Middle and High School Science Bowls will be held in Washington D.C. on April 27 – May 1, 2017, where Abraham Lincoln Middle School Team I will compete. The U.S. Dept. of Energy Office of Science covers the travel and lodging expenses for all regional winning teams, which includes five team members and their coach.
Teams at the competition on March 4h included:
Abraham Lincoln Middle Team I, Gainesville
Abraham Lincoln Middle Team II, Gainesville
American Heritage School Team Black, Plantation
American Heritage School Team Gold, Plantation
Bell Creek Academy, Riverview
Central Middle School, West Melbourne
DeLaura Middle School, Satellite Beach
Edgewood Jr/Sr High School, Merritt Island
Falcon Cove Middle School, Weston
Forest Grove Middle School, Ft. Pierce
Freedom 7, Cocoa Beach
Hidden Oaks Middle School, Palm City
Hoover Middle School, Indialantic
Lake Nona Middle School, Orlando
Madeira Beach Fundamental Team Blue, Madeira Beach
Madeira Beach Fundamental Team White, Madeira Beach
Milwee Middle School, Longwood
Terrace Community Middle, Thonotosassa
Westglades Middle School, Parkland
Westshore Jr/Sr High School, Melbourne
Canaveral Council of Technical Societies sponsored this year's regional competition in Florida, which was coordinated by the Space Coast Science Education Alliance. Numerous volunteers from the local community including students from Eastern Florida State College, Florida Tech and the University of Central Florida assisted the day of the event.
About FSEC
The Florida Solar Energy Center, UCF's energy research and education institute, was established in 1975. Located on the Cocoa campus of UCF and Eastern Florida State College, FSEC has gained national and international respect for its public and private partnerships, focusing on: solar energy, energy-efficient buildings, hydrogen and fuel cells, electric vehicles, smart-grid research, and testing and certification of solar equipment. The Center conducts continuing education and training programs for professionals, government and industry leaders around the world, in addition to Science, Technology, Engineering and Mathematics (STEM) opportunities for the future energy workforce. For more information, visit www.fsec.ucf.edu
America's Partnership University
The University of Central Florida, one of the largest universities in the nation with more than 64,000 students, uses the power of scale and the pursuit of excellence to make a better future for our students and society. Described by The Washington Post as demolishing "the popular belief that exclusivity is a virtue in higher education" and credited by Politico with creating a "seamless pipeline of social mobility," UCF is recognized as one of the best values in higher education. UCF aligns its teaching, research and service with the needs of the community and beyond, offering more than 200 degree programs at more than a dozen locations, including its main campus in Orlando. Faculty and students are creating innovations in areas as diverse as simulation and training, optics and lasers, hospitality management, video game design, business, education and health care to solve local and global problems. For more information, visit www.ucf.edu.
PR1-17-01
Please follow and like us: