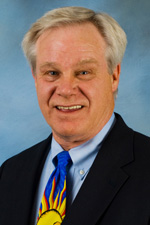 Philip Fairey, deputy director of the Florida Solar Energy Center (FSEC), is the recipient of the Johnson Controls' second annual Building Efficiency Lifetime Leadership (BELL) award. The BELL Award recognizes individuals who have devoted many years of their career to energy efficiency, sustainability or renewable energy.
Johnson Controls, a leader in energy efficiency and sustainability, presented the award at their Green Tie Affair – a customer appreciation event – held in conjunction with the Greenbuild Conference last week in Phoenix, AZ.
Fairey's nearly 30 years of experience in buildings research has advanced renewable energy and energy efficiency in Florida. His significant contributions include the development of moisture transport control and radiant barrier technology, advanced cooling and dehumidification systems, and energy analysis software tools.

At the University of Central Florida's Florida Solar Energy Center, Fairey develops and leads research and technology initiatives, including the EnergyGauge® suite of building energy analysis software tools. He holds several U.S. patents, and he has published more than 100 articles, papers and books. Fairey is a member of two standards committees of the American Society of Heating, Refrigerating, and Air-Conditioning Engineers, and is president of the Residential Energy Services Network (RESNET), the nation's premier organization in the development of home energy rating system standards.
"Philip's leadership in buildings research at FSEC has led to significant Florida energy codes and standards improvements, saving more than $100 million annually in energy costs. I'm pleased to see his efforts recognized," said Jim Fenton, director of the Florida Solar Energy Center.