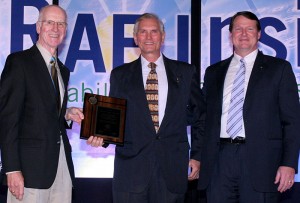 The Florida Solar Energy Center's Charles Cromer was selected as a Fellow at the American Society of Heating, Refrigerating and Air Conditioning Engineers (ASHRAE) 2010 Winter Conference last month in Orlando.
The honor is granted to members who have attained unusual distinction in the field of heating, refrigeration, air conditioning or ventilation (HVAC).
Cromer, program director of the Appliance Laboratory at the University of Central Florida's Florida Solar Energy Center, has made significant contributions in the HVAC field. His invention of the Cromer Cycle air-conditioning system provides more energy-efficient dehumidification than standard air conditioners or dehumidifiers.
His innovation can be found in operating rooms, and it even conditions the room displaying the first flag of the United States.
Cromer has received three patents for his concept of the Cromer Cycle, and it is now commercially known as the Trane CDQ (Cool, Dry, Quiet) option. Trane Inc. and Oak Ridge National Lab were instrumental in the product development.
The Cromer Cycle was recognized as the Frost and Sullivan Best Dehumidification Product of 2005 and as an R&D Magazine Top 100 product in 2006.
An ASHRAE member since 1981, Cromer has contributed to the development of many of the organization's standards.
"This is a significant honor in the engineering profession, given that the recognition is driven by our peers and based on real contributions to the improvement of our environment, safety or the general welfare of society," said Bob Reedy, director of FSEC's Solar Energy Division. "Very few engineers earn this career distinction."
For more information about the Cromer Cycle, visit http://txspace.tamu.edu/bitstream/handle/1969.1/6772/ESL-HH-00-05-06.pdf?sequence=4 or http://www.patentstorm.us/patents/6094835/description.html.
About ASHRAE
The American Society of Heating, Refrigerating and Air-Conditioning Engineers, founded in 1894, is an international organization of 51,000 persons. ASHRAE fulfills its mission of advancing heating, ventilation, air conditioning and refrigeration to serve humanity and promote a sustainable world through research, standards writing, publishing and continuing education.