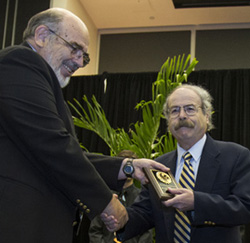 COCOA, May 15, 2012 – A researcher who has developed a novel method that uses sponge-like carbon particles to clean up oil spills in water and among some other exciting work at UCF's Florida Solar Energy Center (FSEC) has received one of UCF's highest honors.
Nazim Muradov, a researcher at FSEC since 1990, recently received the UCF Institute and Centers Award for Excellence in Research.
Aside from the promising sponge-like carbon clean up method, Muradov also developed a novel high-energy density seawater-based hydrogen generator that can be used to propel Navy's unmanned undersea vehicles.
"I am honored to receive this award because it underscores the high value and impact of research work conducted at FSEC," states Muradov.
Muradov received a plaque and kudos from his peers during UCF's annual Founders' Day Honors Convocation. Only the best faculty and students are recognized during the event, which was held April 4 at the Orlando campus.
With more than 30 years of experience in hydrogen energy research, Muradov also developed a new method for production of hydrogen and nanostructured carbon materials from methane and other hydrocarbons. He has authored and co-authored more than 200 publications, including a book and several book chapters, and he has been granted 41 patents.
In addition to this year's award, Muradov received the honorary title of International Association for Hydrogen Energy Fellow in 2010 and the UCF Research Incentive Award in 2003. He was presented the UCF Distinguished Researcher of the Year Award for Institutes and Centers in 1996.
Regarding future research endeavors, Muradov says he would like to contribute to the development of carbon-neutral energy systems. "Many existing challenges, such as insecure energy supply and the adverse environmental impact of fossil fuels, can be solved in conjunction with the development and implementation of these systems," explains Muradov.
About FSEC
The Florida Solar Energy Center, a research institute of the University of Central Florida, is the largest and most active state-supported energy research institute in the nation. Current divisions and their research activities include Advanced Energy Research: alternative transportation systems, hydrogen fuel and fuel cells; Buildings Research: energy-efficient buildings; and Solar Energy: solar water and pool heating and solar electric and distributed generation systems. For more information about the center, visit http://www.floridaenergycenter.org or call the FSEC Public Affairs Office at 321-638-1015.
UCF Stands For Opportunity
The University of Central Florida is a metropolitan research university that ranks as the 2nd largest in the nation with more than 58,000 students. UCF's first classes were offered in 1968. The university offers impressive academic and research environments that power the region's economic development. UCF's culture of opportunity is driven by our diversity, Orlando environment, history of entrepreneurship and our youth, relevance and energy. For more information visit http://news.ucf.edu.
###
PR12-04