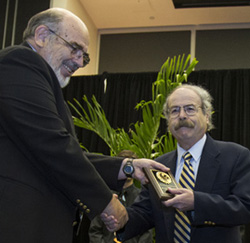 COCOA, May 15, 2012 – A researcher who has developed a novel method that uses sponge-like carbon particles to clean up oil spills in water and among some other exciting work at UCF's Florida Solar Energy Center (FSEC) has received one of UCF's highest honors.
Nazim Muradov, a researcher at FSEC since 1990, recently received the UCF Institute and Centers Award for Excellence in Research.
Aside from the promising sponge-like carbon clean up method, Muradov also developed a novel high-energy density seawater-based hydrogen generator that can be used to propel Navy's unmanned undersea vehicles.
"I am honored to receive this award because it underscores the high value and impact of research work conducted at FSEC," states Muradov.