By Sherri Shields
Feb. 5, 2015
The Central Florida Clean Cities Coalition was awarded first place for Most Improved Petroleum Reduction, among nearly 100 coalitions nationwide. The U.S. Department of Energy's Clean Cities Coalitions advance the nation's economic, environmental, and energy security by supporting local actions to reduce petroleum consumption in transportation.
The Central Florida Clean Cities Coalition territory encompasses a 10-county area consisting of Brevard, Flagler, Indian River, Lake, Okeechobee, Orange, Osceola, Seminole, St. Lucie and Volusia Counties. The coalition had a 247 percent increase in petroleum reduction in 2013 compared to the previous year. The Most Improved award was announced at the annual Clean Cities Coordinator Workshop in December 2014.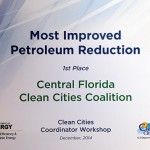 "Fleet managers in our coalition region have been aggressively pursuing the full range of options available to increase fuel efficiency, including converting their gasoline vehicles to electric or hybrid, as well as employing idle reduction strategies," said Colleen Kettles, coordinator of the Central Florida coalition. "We have also seen the opening of both public and private compressed natural gas (CNG) fueling stations in our region. And, believe or not, good old-fashioned car-pooling had a significant impact. But what has also contributed to our results is the willingness of fleet managers to report their efforts to us so we can include them in our annual report to the U.S. Department of Energy."
The Central Florida Clean Cities Coalition is a non-profit corporation administered by the University of Central Florida's Florida Solar Energy Center (FSEC) at the Cocoa campus.
For more information about the Central Florida Clean Cities Coalition, visit http://centralfloridacleancities.com/ or contact Colleen Kettles at ckettles@fsec.ucf.edu, 321-638-1004.
PR15-01